By Chinedu Adonu
ENUGU—ECONOMIC and Financial Crimes Commission, EFCC, South East Zonal Head of Operation, Mr Johnson Babalola, has disclosed that former Governor  of Enugu State,  Sullivan Chime's case is still under investigation.
Johnson who disclosed this yesterday at the Press Center, Independent Layout, Enugu, said that Chime is still not far from being hooked up in N450million campaign fund allegedly disbursed  by Deziani Alison-Madueke for 2015 election.
Babalola explained that Rita Mba, who was also fingered along with Chime and some others, is also under investigation even when she seemed to have accused EFCC of compromising with Chime in the fraud saga.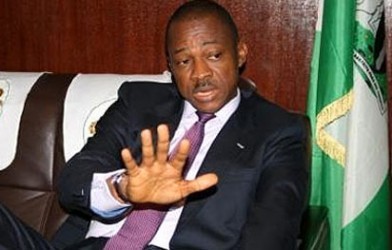 The EFCC boss pointed out that criminal cases of that nature can linger for a long time for a thorough investigation to take place.
"Chime is still under investigation.  Criminal cases don't have expiry dates.The case is still not closed.Rita Mba has the right to allege that we have compromised.  I want to tell you that she is also still under investigation and I don't want to say more than that about the case.
"We are making progress in the case,even as Rita Mba petitioned EFCC for compromising Chime's issue. They are not far from being hooked by N450million Deziani Alison-Madueke's campaign fund", Babalola declared.
Babalola who said  the briefing was meant to thank the media for the yeoman's job they are doing in educating the masses about the happenings in the society and EFCC activities, lamented that crime and criminality persist in the society because the society seems to celebrate criminals, explaining that when communities know that somebody is a thief, they still give such a chieftaincy title.
He also lamented that EFCC is hamstrung financially in carrying out their onerous task as a corruption fighting agency because the very people they seem to be fighting are holding the purse, thereby making it difficult for them to execute their jobs.
"We are handicapped financially for the work because the people we are fighting are still the same people that will approve our funds," Babalola lamented.
He said however that in spite of the challenges, the country would not be allowed to rot even when the powers that be seemed to be fighting  their boss, Ibrahim Magu, who he said is clean in the fight against corruption.
"The main thing in Nigeria is corruption and insecurity.  The powers that be are against my oga.  He has nothing in his cupboard and they cannot stop him from carrying out investigations," he alleged.
He explained that the EFCC does not indict people but investigate a matter before prosecuting it  in court, pointing out that they are always thorough before they say something.