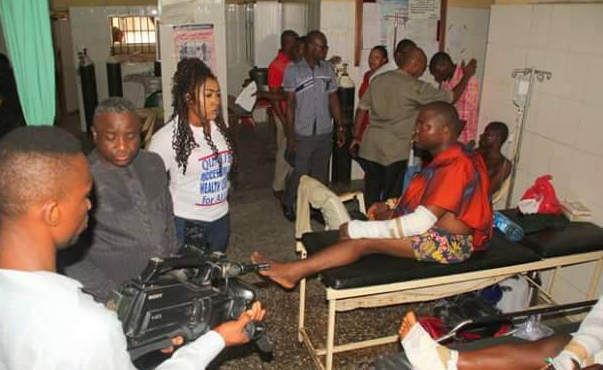 Survivors of Calabar electrocution in hospital.
THE football frenzy that turned tragic at a viewing centre in Calabar, Cross River State recently calls to question the authorities' concern for the sanctity of human lives.
No one raised an eyebrow over shanties built under high-tension electricity cables until that disaster struck where enthusiastic fans were watching a Europa League match between Manchester United and Anderlecht. Reports put casualties at 30 dead with about 50 injured, but officials claimed eight died. The electrocution of the ecstatic soccer buffs followed double explosions from a nearby transformer which impact caused the high tension wire to drop on the zinc roof of the makeshift viewing hall.
Despite the nation's myriad of problems, football, locally and internationally, remains a veritable unifying factor for Nigerians. Several foreign football clubs across the world, especially Europe, have strong supporters in Nigeria. It is unfortunate that some of these soccer-loving citizens died painfully while revelling in their passion. This tragedy should not be swept under the carpet like similar incidents in the past. The circumstances that led to it must be investigated since the loss of lives was due to the failure of public utilities.
The Port Harcourt Electricity Distribution Company (PHEDC), which exercises jurisdiction over the area, promised to investigate what actually went wrong. The State Government also expressed its intention to inquire into the incident. Beyond the investigations, the relevant authorities that failed in their official duties when illegal structures were erected under high tension cable have questions to answer.
The PHEDC should be investigated and sanctioned for failure to maintain its installations, thus endangering human lives. The viewing centre and similar structures in such areas are tragedies waiting to happen, and they can happen again because such eyesores exist all over the country.
The security and welfare of the citizens are the primary responsibilities of governments, but in Nigeria, this is hardly the case.
Both the Calabar Municipality Local Government and the Cross River State Government should take full responsibility for the tragic occurrence. Those lives would have been saved if both governments were proactive. It should have been nipped in the bud. The police must go after the runaway viewing centre operator and arrest him. He must be prosecuted.
Typical of the way we do our things in Nigeria, a number of reactive measures are pouring in. A group: Efik Mothers led by Senator Florence Ita-Giwa, has promised to build a modern viewing centre. The Cross River State Government has undertaken to bear the medical expenses of those injured, while the Manchester United Football Club of England has commiserated with the families of victims.
But more important that all these, government and the PHEDC must compensate the victims' families and take necessary steps to ensure that such an incident does not reoccur.