By Dapo Akinrefon
osogbo—THE management of LAUTECH Teaching Hospital, Osogbo has refuted claims by the family of Senator Isiaka Adeleke that it made payment for an autopsy of the late lawmaker.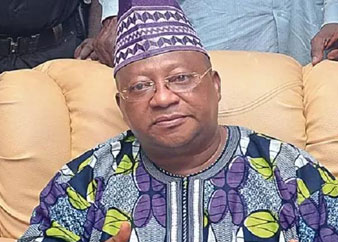 In a statement signed by one Ayodele Adeyemo, entitled: 'Position of LAUTECH Teaching Hospital, Osogbo on Senator Adeleke's autopsy', the hospital's management faulted comments credited to the Adeleke family regarding the role played by the hospital in the conduct of autopsy on the late Senator.
The statement read in part: "It is with a high sense of responsibility that the Management of LAUTECH Teaching Hospital wishes to make the following statements with a view to putting records straight especially the role played by the hospital in conducting the autopsy on the deceased, Senator Isiaka Adetunji Adeleke.
"The Management of the hospital held the distinguished Senator Adeleke as a politician of great reputation for unparalleled philanthropy famous for his concerns for the plight of the downtrodden. We express our heartfelt condolence to the family, the State of Osun and Nigeria at large."
Also, the management said: "The so-called authorization by one Mrs. Dupe Adeleke-Sanni as disclosed by the family could not have been the case as the autopsy became coroner's case as stated above. What Mrs. Dupe Sanni wrote after the completion of the autopsy was what she called 'Certificate of Honour' to the hospital with the following content: "On behalf of the Adeleke family, I, Mrs Dupe Sanni hereby certified that the family is satisfied and hereby confirmed our confidence in the pathology examination conducted by the Pathologist in LAUTECH Teaching Hospital, Osogbo on Senator Isiaka Adeleke, and we are therefore not interested in requesting for a repeat of the examination in any other hospital."
The statement was signed. The Management challenged the family to produce the authorization letter as they claimed.
On payment of a fee for the autopsy, the management said: "LAUTECH Hospital, like all other hospitals, works round the clock, tests, drugs, and procedures can be done and be paid for at any time of the day. Indeed, LAUTECH Teaching Hospital, Osogbo has a fully functional automated payment system that will issue receipts instantly. The truth is that no payment was made by the Adeleke family to the hospital for the autopsy. It is clearly an attempt to smear the hospital to suggest that hospital which runs Children and Adult emergencies could not issue a receipt for payment made on a Sunday."
The hospital also challenged the family to provide a previous letter of application for tissues which was reportedly rejected by the hospital.
"On the allegation of refusal to return tissue (sample) by the hospital, suffice to say that if the family of the deceased are keenly interested in obtaining the samples for autopsy by other agencies/ hospitals, it behooves on them to apply to the coroner for that," it stated.