By Dirisu Yakubu
Governor Nyesom Wike of Rivers State and the Ali Modu Sheriff-led faction of the Peoples Democratic Party, PDP,  yesterday, engaged in a war of words over culpability in alleged moves to destroy the party.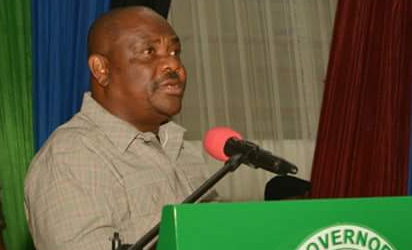 While Governor Wike accused Senator Sheriff of being a mole of the ruling All Progressives Congress, APC, to destroy the PDP, Sheriff's PDP on its part, accused Wike of plundering Rivers State treasury against the interest of the PDP. The faction further accused  Wike of expending N50 million to host last weekend's ill-fated reconciliatory meeting which it also accused former President Goodluck Jonathan of erring by breaking protocol.
Jonathan, yesterday, rebuffed the allegations.
Governor Wike, speaking at a ceremony to welcome 7,800 defectors from the APC at the Sharks Stadium, Port Harcourt, yesterday, said: "Sheriff is a mole of the APC who is being sponsored by the Federal Government. They are sponsoring Sheriff because of the crisis in the APC.
"The APC has nothing to tell Rivers people on why they should remain in that party. After two years, there is no single Federal Government project in the state."
Governor Wike said that the defection of APC members to the PDP signals the death of the political party in the state because it was founded on falsehood and deception.
He said: "We were looking for our brothers that were kidnapped through lies and deceit. We prayed for our brothers to return and today they are back."