ASABA — DELTA State Government has again provided starter packs to additional 68 STEPreneurs trained in hairdressing, makeover and production of interlocking stones, as part of its determination to tackle youth employment.
The entrepreneurs, 50 in hairdressing and makeover and 18 in interlocking were among those that completed a three-month training programme under the state government's Skills Training and Entrepreneurship programme (STEP).
The items given out to each beneficiary in hairdressing and makeover included a job creation grant of a standing hair dryer, micro credit of steaming machine, Sumec Fireman 2900 generator. modern hair washing basin, hand dryer, flat hair tong, WAHL hair clipper, 10 packs of hair rollers, make-up box, designers makeup accessories, cash allowance of N150, 000 and three-month stipend of N10, 000 per month on establishment of enterprise. In the same vein, STEPreneurs trained in interlocking received a job creation grant of a compacting machine, microcredit of a wheel barrow, spade, two trowels, 100 mould designs, 15 pieces of three- inch kerb, 20 pieces of four-inch kerb, two mallets, three brushes, GeePee water tank, cash allowance of N120, 000.00 and three- months stipend of N10, 000 per month on establishment of enterprise.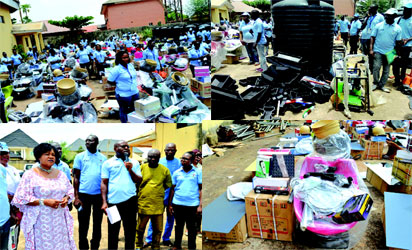 Addressing the beneficiaries, the state governor, Senator Ifeanyi Okowa, represented by the Chief Job Creation Officer, Prof Eric Eboh, charged them to uphold the vision and mission of the job/wealth creation scheme, nurturing entrepreneurs and business managers, stating that their success depends on their attitude to work and how they package their products.
According to him, the 2016 cycle of the job creation programme was in its second phase, with distribution of starter packs to beneficiaries.
Job creation train on the move
His words: "The Delta State job creation prosperity train is moving, we are making the distribution in batches, we have given out starter packs to STEPreneurs trained in audio-visual technology, POP and tiling and most YAGEPreneurs have been established in irrigated tomatoes production, fish production and rice production."
The governor reiterated his belief that Delta youths if empowered to become entrepreneurs have the capacity to transform the economic landscape of the state, saying, "I believe that our youths can be the best in the world and empowering the youths is my number one priority in terms of funding, irrespective of the financial constraints facing the state."
He tasked them to pay back the state government's kind gestures by being good ambassadors of the programme like their 2015 cycle counterparts.
Governor Okowa disclosed that the office of the chief job creation officer in collaboration with the Directorate of Youth Monitoring and Mentoring would organize a world -class fair for YAGEPreneurs and STEPreneurs to showcase their products in the next five months, challenging them to be innovative and creative so as to be invited to market their products and services to the world.