By Michael Eboh
The Nigerian National Petroleum Corporation, NNPC, has vowed to achieve full recovery of the outstanding crude swap under-deliveries from three companies, Aiteo Energy Resources, Televaras Group of Companies and Ontario Oil and Gas Limited.
Addressing newsmen in Abuja, Group Managing Director of the NNPC, Mr. Maikanti Baru, said so far, the Corporation has recovered $208 million from Aiteo and Televaras.
Baru, who was represented by Mr. Saidu Mohammed, Chief Operating Officer, Gas and Power, NNPC, said the Corporation is currently working hard to recover $103 million from Ontario.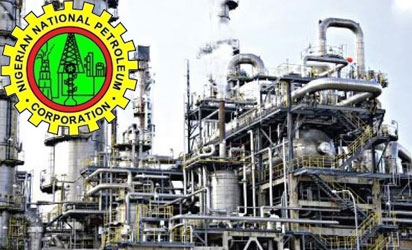 Baru further stated that the NNPC has taken far-reaching? measures to recover N14 billion, being 130 million litres of missing Premium Motor Spirit, PMS, stored in the facilities of some depot owners.
Serious threat to economy
According to Baru, one of these operators has fully complied by returning the expropriated volumes of oil products, adding that it is working with security agencies to recover about N11 billion from the second operator.
He also appealed to vandals to desist from the destruction of its facilities, stating that the act poses serious threat to economy of the country, among others.
He stated: "On security challenges, we are setting up an all-advisory security council involving critical stakeholders which include security agencies, Niger Delta youths and leaders, international oil companies, among others, to complement the Federal Government's efforts towards addressing host communities agitations as well as ensuring lasting peace in the region.
"For the umpteenth time, we want to passionately appeal to those behind indiscriminate acts of infrastructure vandalism to put an end forthwith to these despicable acts which are a great threat to the economy, eco-system and energy security.
Baru commended the media for its role in combating crude oil theft and vandalisation, while he called for further support from the media in its quest to work with relevant stakeholders towards safeguarding the nation's oil and gas facilities.
Meanwhile, in another development, the NNPC said it is diversifying into the health sector and plans to commercialise its 52 clinics and hospitals spread across the country.
According to a statement by the NNPC in Abuja, this diversification initiative is part of its strategy to stay afloat as a commercially viable entity.
To drive this initiative, the statement noted that the Group Managing Director of the Corporation, Mr. Maikanti Baru, inaugurated the Boards of the NNPC Medical Services Limited, NMSL and the NNPC Health Maintenance Organisation (HMO) Limited.
The NNPC stated that following its recent restructuring, its Group Medical Services was realigned as a new venture non-core business entity, charged with the responsibility of creating new medical businesses that will generate revenue for the Corporation.
It explained that as at today, the NNPC Medical Services Division boasts of 52 clinics and hospitals spread across the Corporation's various locations across the country, providing services to staff and their family members.
Speaking at the inauguration ceremony, Baru said the aim of the NNPC now, was to open up these medical facilities to other oil and gas organisations as well as other interested third party consumers for profitability.
He said, "My vision is to make NNPC a renowned Health Medical Services (HMS) provider globally.
In the nearby future, we are committed to making our medical facilities a reference point for the provision of world-class health medical services in Africa and beyond."
Baru charged the Board members to provide the necessary direction to medical service delivery in NNPC in line with global best standards.
"It is going to be a new terrain for all of you. You must take advantage of the latest and most efficient technological advancement in healthcare service delivery," he told the Board members.
While urging the two boards to carve a niche for the NNPC Medical Services as a specialized medical service provider such as "Burns and Trauma Centre", he also called on them to collaborate with the best partners as it is very critical towards service delivery.
He further charged the two boards to work with synergy, without compromising their respective independence, stressing that their job comes with a lot of responsibility and they must prove themselves on this critical assignment.
Also speaking, the Chief Operating Officer, NNPC Ventures, who is also the Board Chairman of the two organisations, Mr. Babatunde Adeniran, said that with this development, the NNPC was taking advantage of the new opportunities in the nation's health sector.
"With this development, the existing NNPC Hospitals will compete for clients with other top class hospitals in locations where they operate hence quality of service would be improved," Adeniran stated.
Aside Dr. Adeniran who chairs the Boards of the NNPC Medical Services and the NNPC Health Maintenance Organisation, there are also seven members for each of the boards, which are expected to commence work immediately.