By Sola Ogundipe & Chioma Obinna
THE current outbreak of  Cerebrospinal Meningitis, CSM, in Nigeria is repetition of series of outbreaks mostly affecting States in the upper parts of the country which fall within the African Meningitis Belt.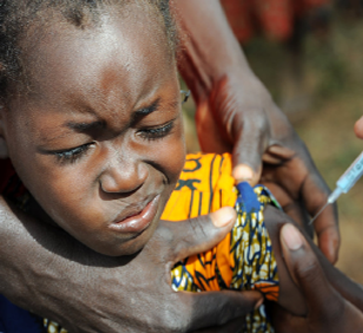 In a public advisory on the latest outbreak, the Federal Ministry of Health, explained that for the first time, the meningitis epidemic is being caused by Neisseria Meningitides type C rather than the known Meningitides Type A..
Nigeria has a long history of  CSM epidemics. One of the worst occurred in 1996 when 109,580 cases and 11,717 deaths were recorded.
In 2003, there were 4,130 cases and 401 deaths; 9,086 cases and 562 deaths in 2008,  and 9,086 cases and 562 deaths recorded in 2009.
The historical records and past experiences influenced health authorities in Africa (especially countries within the African Meningitis Belt), the World Health Organisation and  Development Partners to roll out a strategic intervention for the effective prevention of such epidemics.
As at Friday, March 31, 2017, there were  2,524 infections with 328 deaths recorded in 90 Local Government Areas in 16 States of the Federation.
The affected States include Zamfara, Katsina, Sokoto, Kebbi, Niger, Nassarawa , Jigawa, FCT, Gombe, Taraba and Yobe. Others are Kano, Osun, Cross Rivers, Lagos and Plateau.
According to the Centers for Diseases Control and Prevention, CDC, bacterial meningitis is very serious and can be deadly.
Death can occur in as little as a few hours, and even though most people recover from meningitis, however, permanent disabilities (such as brain damage, hearing loss, and learning disabilities) can result from the infection.
Types of  bacteria that can cause meningitis
These include, Streptococcus pneumoniae, Group B Streptococcus, Neisseria meningitidis, Haemophilus influenzae and Listeria monocytogenes.
Causes and risk factors
Common causes of bacterial meningitis vary by age group.  People at increased risk for bacterial meningitis include babies  compared to people in other age groups. However, people of any age can develop bacterial meningitis.
People working with meningitis-causing pathogens, such as microbiologists are routinely exposed to meningitis-causing bacteria are at increased risk for meningitis.
How it spreads
Generally, the  meningitis bacteria spread from one person to another although how people spread the germs often depends on the type of bacteria.
It is also important to know that people can carry these bacteria in or on their bodies without being sick. These people are "carriers." Most carriers never become sick, but can still spread the bacteria to others.
People spread germs by coughing or sneezing while in close contact with others, who breathe in the bacteria.
People spread Neisseria meningitidis by sharing respiratory or throat secretions (saliva or spit). This typically occurs during close (coughing or kissing) or lengthy (living in the same household) contact.
Signs and symptoms
Meningitis symptoms include sudden onset of fever, headache, and stiff neck. There are often other symptoms, such as nausea, vomiting, photophobia (increased sensitivity to light) and altered mental status (confusion).
In newborns and babies, the meningitis symptoms of fever, headache, and neck stiffness may be absent or difficult to notice.
The baby may be irritable, vomit, feed poorly, or appear to be slow or inactive. In young babies, doctors may also look for a bulging fontanelle (soft spot on infant's head) or abnormal reflexes. If you think your baby or child has any of these symptoms, call the doctor right away.
Symptoms of bacterial meningitis can appear quickly or over several days. Typically they develop within 3 to 7 days after exposure.
Later symptoms of bacterial meningitis can be very serious (e.g., seizures, coma).
Early diagnosis, treatment and isolation
Diagnosis :Collection of samples of blood or cerebrospinal fluid (fluid near the spinal cord) for laboratory test.
Treatment :Doctors treat bacterial meningitis with a number of antibiotics. It is important to start treatment as soon as possible.
Prevention Tips:
The most effective way to be protected against certain types of bacterial meningitis is to get vaccinated against the three types of bacteria that can cause meningitisIt is very important that all individuals should acquaint themselves with at least the basic knowledge/understanding of CSM and how it is transmitted and prevented.
*Strictly adhere to the advice  on protection
*Promptly seek  medical/health care as soon as CSM or CSM-like illness is suspected
*All hospitals are to ensure that appropriate diagnoses are made including laboratory confirmation and immediate reporting through the surveillance system
*Commence early treatment as soon as the diagnoses of CSM is made
Restrict mingling with other people once one is diagnosed as a case of CSM
*All Secondary and Tertiary Public Health Facilities should provide free treatment to all CSM Patients
Prevention tips
Avoidance of overcrowding, sleeping in well ventilated places, avoidance of close and prolonged contact with  case/s and proper disposal of respiratory and throat secretions.
Others include: Strict observance of hand hygiene and sneezing into Elbow joint/sleeves, reduction of  hand shaking, kissing, sharing utensils or medical interventions such as mouth resuscitation; vaccination with relevant sero-type of the meningococcal vaccine and avoidance of self-medication.
Subscribe for latest Videos