AKARA is a snack that is always available at every corner in
Nigeria at anytime of the day but it is popular for breakfast. For some years now, at health conferences or meetings of health professionals, akara has replaced wheat flour-based snacks because of its health benefits.
Akara is a deep fried snack made with brown beans or black eyed beans popularly known as white beans. For breakfast, it is best enjoyed with pap (ogi), custard, oatmeal and for some, it goes with bread. For light dinner, it goes with agidi (eko) or for some people; they just eat it and drink water. As many as are running away from flour snacks, it is also advised to snack on akara in moderation because of the vegetable oil or palm oil involved in frying it.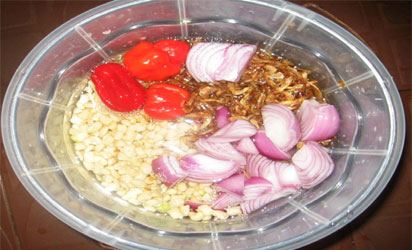 Many homemakers love to eat akara but the process is too stressful to them. Some that could go through the stress are discouraged with the outcome because most times, it is not as good as the one they buy from outside. The mistake comes mainly from the mixing and the way it is scooped inside the oil. When it is watery, you can't get it right and when the oil is too hot, it will just spread and get burnt within seconds.
Each time you fry your akara, make sure the oil is not too hot and once you remove a set, lower the heat before scooping another set in the oil.
Ingredients for a family of five
2 cups of beans
4 scotch bonnet (atarodo)
1 medium onion
2 cloves garlic
2 tablespoons ground crayfish (optional)
1 egg (optional)
Vegetable oil or palm oil according to the size of your deep fryer or frying pan
Seasoning cubes
Salt to taste
NOTE: Do not recycle your oil. Use fresh palm oil or vegetable oil for healthy meal
RECIPE
STEP1
Soak and wash your beans or soak and remove the skin with blender. (check Homemakers edition of March 8, 2017 on "How peeling beans for akara or moin-moin can be fun"
STEP 2
Blend the washed and peeled beans with the scotch bonnet (atarodo) and onion.
Make sure you add water for a smooth and thick blend.
Blend twice to avoid lumps.
STEP 3
Mix the beans very well and add water if it is too thick.
Remember, it must not be watery so that it would not spread in the oil.
Add ground crayfish (optional) and mix very well.
Add seasoning cube and salt to taste.
Then, break an egg (optional) inside and mix until smooth. The egg will make it come up in the oil like puff-puff.
STEP4
Heat oil in deep fryer and make sure the oil can cover the akara for a brownish result.
Dice onion or garlic and put about 4 pieces inside the hot oil for a sweet aroma that can attract people from far distance.
NOTE: Do not overheat the oil. It will make the beans to spread and it will just fry the outside while the inside will be undone.
STEP5
Scoop beans with tablespoon inside the oil and keep an eye on it to flip it over when it is brown.
Remove the brown akara into a sieve covered with paper towel to drain the excess oil.
Enjoy your home made akara.