By Dennis Agbo
THE Enugu state House of Assembly, yesterday, held an emergency sitting where it resolved to send the Enugu Electricity Distribution Company, EEDC, out of the state.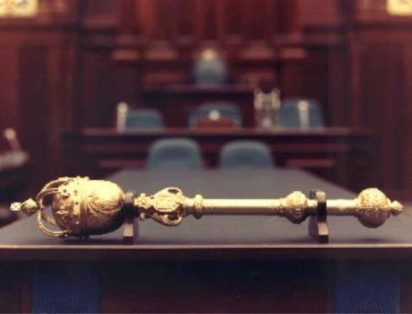 The quit notice is as result of  various allegations  by electricity consumers in the state that resulted to protests to the state legislature.
Moving a motion for the firm to vacate the state, Hon. Chinedu Nwamba, representing Nsukka East state constituency on behalf of 22 others,  alleged numerous unwarranted activities of EEDC in the provision of electricity services to the people of the state which he said had reached an alarming and unbearable stage. Scores of electricity consumers in Enugu had before the house sitting, staged a protest to the state House of Assembly over incessant power outage, outrageous billing, alarming tariff among other forms of alleged exploitative activities by the Enugu Electricity Distribution Company, EEDC.
Nwamba made three prayers in the motion, but the House amended and increased the motions to six, including; declaration of a state of emergency on EEDC with an order for the company to vacate the state forthwith, and that the Nigeria Electricity Regulatory Commission should direct EEDC to stop billing customers in Enugu pending the resolution of the identified problems.
Other prayers are; that Enugu state set up a technical committee to liaise with EEDC to validate the quality of New Meters they are currently supplying the public to know if the setting is commensurate with the unit consumption; that EEDC should sit up and begin to do business in line with the international best practices and stop charging the people of Enugu state and its environs more than what is charged in other parts of the country.
Also as part of their prayers, the House charged consumers of electricity in Enugu state to stop paying for electricity bills they did not consume; and that other states within the South East zone should similarly declare state of emergency on EEDC.
The House presided over by the Speaker, Edward Ubosi constituted ad-hoc committee to hold public hearing in the three senatorial zones of the state where EEDC and NERC officials would be invited to explain why South East zone pays highest electricity tarrif in the country even when supply was epileptic. Protesters who displayed numerous placards with various inscriptions, had earlier called on the lawmakers, to as a matter of urgency intervene on the issue.
The protesters also demanded the exit of the EEDC, saying the company since inception, has continued to make life unbearable for citizens of the state.
The protesters explained that they decided to cry out based on the fact that they could no longer cope with the said "outrageous billing, epileptic power supply, among other inhuman acts by the electricity distribution company.