Committed to developing mobile software for all types of businesses across the globe, eleader in partnership with its Nigerian partner, AnalyticsRim Technology Services at the weekend introduced its advanced field force management, sales force automation software to Nigerian market.
The solution which uses mobile phones and tablets to help manage and support all actions in point of sale was recently introduced into the country as part of the eLeader growth strategy.
Speaking at the event in Lagos recently, Milena Stachniuk, International Sales Manager, eleader said, "In recent times, we seen increased competition in all areas of endeavour from manufacturing to retail and after sales which has led organizations to going the extra mile to get the advantage in the market place.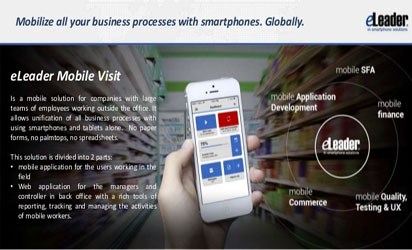 The solution, according to the IT firm would help organisations to have the right speed and information to drive their operations and market executions.
eleader is a smartphone solution that provides user-friendly interface, daily refreshed data from the field, and customized application to make marketing and sales efforts seamless.
It also helps organisations save time and resources while getting ahead of the competition by providing unique information about facing, product availability, and share of shelf.
By monitoring planogram compliance and supplies insightful data based on pictures obtained during in-store visit, Israel Aibuedefe, Chief Executive Officer AnalyticsRim Technology, told Technology Journalists during the launch that, "Many organisations have inadvertently adopted the reactive approach marketing and sales because of the inherent limitations that standard analytic tools come with.
"Over the years eLeader has taken the lead globally to empowering growth, speed, productivity and efficiency in every facet of the business, giving it the right operational intelligence it needs to succeed in the ever changing industry transformation.
"This is possible due to the high premium place on research and development and innovation. We are pleased to offer Nigerians firms this expertise."
eLeader was established in the year 2000 in Poland with its main focus on developing mobile software for all types of businesses.
Before now, the company has deployed solutions to notable brands in Nigeria like Alcatel Mobile and Lapo Microfinance Bank and globally, it works with Lenovo, Sony, British American Tabacoo and LG. eLeader is present in over 80 countries globally.