By Funmi Ajumobi
Senator Joy Emordi was a member of the fifth and sixth Senate before serving as Special Adviser to President Goodluck Jonathan on National Assembly Matters.  Emordi, in this interview, tells her story as a woman politician.
As a woman who has served her country in the Senate, can you refresh your mind on any personal bill sponsored by you? What motivated it and was it passed?
Life in the Senate was one of the most memorable moments of my life as it gave me the opportunity to pursue one of my core passions, which is to reboot and revive our educational system. As one of the messages that was circulated on the social media recently and attributed to a certain professor rightly states, "You don't need a nuclear bomb or atomic bomb to bring down or dismember a nation. If you kill a nation's educational system, you have killed everything about that nation and invariably the nation itself".
Indeed, as a woman, I have been worried and concerned about the deteriorating state of education and morals in our society. Luckily in the Senate, I was appointed to chair the Senate Committee on Education. I saw it as an opportunity to initiate a lasting change in the way things are done in the sector. You know that I first studied geography education at the University of Nigeria before going back later to study law. I am also an educationist. I have been both a teacher and an education administrator. I established and currently run the Brickhall School, Abuja which we are building into a brand that can compete with any school in the world. But that is a matter for another day.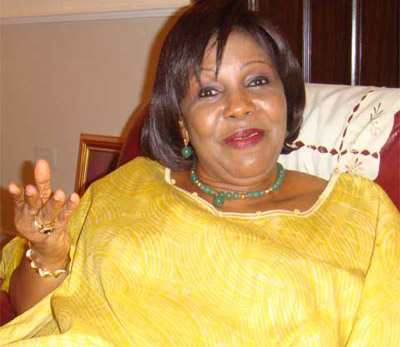 So, I naturally cashed in on my membership of the Senate and chairmanship of the Committee on Education to sponsor and vigorously pursue the passage of a Bill for an Act to Provide for a National Ethics Curriculum in Primary, Secondary Schools and Teacher Training Colleges in all states of the Federation and the FCT. This is because education is first about character molding. An educated soul without character, without a deep sense of morality and patriotism is like a great danger to any society. And, of course, you could hardly optimize your educational potentials without character. That tells you why we are where we are today in the educational sector and the quality of its products. Though the thrust of the bill may be viewed as a policy issue by some to escape the usual policy flip flops, I sponsored it as a bill and it was the first private member bill to be passed by the 6th Senate in 2008. The  bill formed the basis for the development of a new curriculum on civics and ethics by the Nigerian Education Research and Curriculum Development Council (NERDC) and the introduction of civics into the curriculum.
I also sponsored a Bill for an Act to provide for the establishment of the National Institute for Educational Planning and Administration [NIEPA] Nigeria.  Others include a Bill for an Act to Prevent Discrimination Against Graduates and Staff of Polytechnics and a Bill for an Act to provide for the Establishment of the Federal Scholarship Commission and for Matters Connected Thereto. The thrust was to increase access to education for the poor and the less privileged and ensure proper administration of the scheme especially for our foreign students who are usually abandoned to suffer and end up frustrated due to non-payment of their fees and allowances.
I also co-sponsored bills such as a Bill for an Act to establish a Trust Fund for the Compensation of Public Security Officers and for Matters Connected Purposes.
This issue of gender equality in Nigeria, what did you do when you had the opportunity?
Don't forget that I was a member of the Nigerian Expert Team that represented the country at the World Women Conference in Beijing, China in 1995 and we did a lot to raise women issues to the front burner that eventually ended up as conventions in the UN some of which have been domesticated by most countries including Nigeria.
Since I ventured into public service and politics in Nigeria, I have been in the forefront of the effort to change the lot of Nigerian women. On a personal level, I have always demonstrated by my own life that you can become all you want to be, your being a woman notwithstanding.
No doubt, our society and cultures are grossly tilted against women, especially during our own struggle to rise. I nevertheless contested against a man whom the establishment then anointed in the first election I participated in. That was the election to the 1994/95 Constitutional Conference and against all odds I won with a very wide margin. That gave a lot of impetus for more women to venture into politics and elective positions and I personally encouraged and helped to sponsor them. I also ran for the governorship of Anambra State against all odds. Again, to even come to the Senate was like the Gulf War. All sorts of missiles were thrown at me, but I persisted. Some said no Igbo state had ever elected a woman as senator. Even when I won, my Certificate of Return was given to somebody who did not even run for the senatorial primary of our party, but I refused to be cowed as a woman. I got back my mandate through the courts. That was how I became the first Igbo woman to be elected senator. And you can see that many have followed suit. So, I have tried to lead by example, challenging and daring the status quo and I have always achieved great results, by God's grace. I did all these to encourage women to participate and not see gender as an issue.
In my own personal capacity, I have through my Foundation, Senator Joy Emodi Foundation, initiated many empowerment programmes focused on the less privileged, especially women and the girl-child. I have awarded many scholarships to many less privileged girls to enable them get good education, which I believe is the biggest empowerment you can give a woman because it will help her to find her feet and aspire to be all she can be. I have also sponsored skill acquisition programmes for women, especially young widows and given the logistics to help the beneficiaries to start up business.
What advice can you give young women out there aspiring to come into politics?
My advice to young women who aspire to go into politics is first for them to go for the right reasons. They should not see politics as a means of livelihood, but rather as an avenue to serve humanity and do good to the greatest number of people. Second is to be focused on the goal and be determined to keep their integrity without compromise. As women in politics, they would face a lot of challenges and hurdles but by being focused and determined to keep their integrity, they would certainly succeed and make an impact.
Importantly, build grassroots followership. Don't depend wholly on  godfathers. Their conditions for support might lead you astray and on the path of ignominy and compromise. Power lies with the people, the ordinary Nigerians, if you know how to mobilise them. But, first, you have to earn their trust. Most importantly, they should not do politics full-time and must have a means of livelihood, a source of income to avoid desperation in politics. Also, they should start from somewhere and learn the ropes. This idea of coming from the blues helps neither the individual nor the society.
What are your ABCs of life?
I believe that nothing surpasses hard work. I believe in doing everything that my hands find to do with all my strength and commitment. I believe that only the best is enough. So, I give my best. I cherish integrity. If you lack integrity, people will find it difficult to trust you. I do not place emphasis on materialism. I value contentment a lot. What I owe my children is quality upbringing – quality education and quality character. With both, they should be able to find their feet in life. Having done that, I see no reason I should not be contented with life. After all, I brought nothing into this world, and I take nothing away, except legacies of good work and good name.
In summary, integrity, honesty, hard work, contentment and loyalty to any cause I believe in are my ABCs of life.
Apart from being a senator, many people don't know who Joy Emordi is. Who is she really?
Senator Dr. Joy Ifeyinwa Emodi, CON, is Founder/Chairman of Brickhall School, Abuja.
I attended University of Nigeria Nsukka where I studied geography education first and later law. I worked as an Education Officer and teacher before I resigned to read law. I was called to the Nigerian Bar in 1988 and I practised law until I went into the Senate since I could not do the two at the same time.
I represented Anambra North in the Senate of the Federal Republic of Nigeria during the 5th and 6th Assembly. During that time, I was the Chairman of the Senate Education Committee. In 2011, I was appointed as the Special Adviser to President Goodluck Ebele Jonathan on National Assembly Matters during which time I worked hard to ensure a cordial relationship between the Executive and Legislative arms of the government and achieved great results including the passage of the 2013 budget in December 2012 going down in history as the first time a budget would be passed before the commencement of the fiscal year. During that period, the Executive did not lose a single Bill at the National Assembly.
I established Brickhall School as my contribution to the effort to revive our education and to be a model for what our schools should be like given the experience I gathered going round the country and the world on educational assignments when I was in the Senate. I had the privilege of being sponsored by the Senate and some embassies to visit several countries to understudy their educational system. We are building a brand at the Brickhall School which can compete with any school in any part of the world with a lot of Nigerian value system as the base. We run an integrated curriculum to bring in the best practices from around the world to suit our local environment.
I am a mother of four children and four grandchildren.
I have paid my dues in service to my fatherland and I am grateful that my modest contributions have been acknowledged and recognised through the conferment of the national honour of Commander of the Order of the Niger (CON).