By Chioma Onuegbu, Uyo
OIL-rich Akwa Ibom State has of late been in the eye of a raging storm occasioned by escalating cult and communal wars and even kidnappings across the state. In the unfolding scenario, each section of the state seems to be faced with its own form of simultaneously occuring social menace.
In the Annang axis, there is escalating supremacy war among rival cult groups characterised by killings, reprisals and kidnappings, a situation which some residents and even politicians have come to refer as "The return of the boys". And the local government areas affected in the axis are Etim Ekpo, Ukanafun, Essien Udim, Ikot Ekpene and Abak.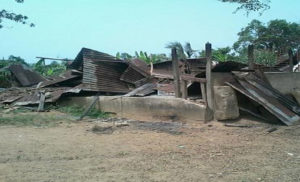 Following the escalation of cult wars, no fewer than 40 persons have been reportedly killed across the affected areas. Ten cult members were reportedly killed in Ukanafun, eleven in Ikot Ekpene and ten in Etim Ekpo between October and December 2016.  It was gathered that in Etim Ekpo on February 5, 2017, four persons were shot dead, while two others were kidnapped in a reprisal attack following the gruesome murder of a PDP youth leader identified as Sunday Jeremiah from Ikot Udobong in Etim Ekpo popularly known as Sparko.
Violent killings by cult rival groups clashes
The violent killings by cult rival groups clashes, according to sources from these areas, are linked to issues bordering on youth and chieftaincy leadership tussles. For instance, speculations have it that the village head of Ikot Nta Enen Obom in Ukanafun LGA, Chief Emmanuel Umahaeyo, was assassinated around the end of January by suspected cultists over youth leadership matter.
It was learned that the village head who assumed leadership in December 2010 had a misunderstanding with a deposed youth leader from the area that was running a parallel leadership and was allegedly fomenting trouble in the community. Similarly, residents of Ikot Ekpene LGA were quick to admit that the incessant violent cult activities in their area were getting really serious until three weeks ago when police operatives deployed to the area were able to bring the situation under control.
One of the residents who spoke on grounds of anonymity said: "The incessant violent clashes between rival cult groups in Ikot Ekpene which began over four months ago have now reached an alarming level. Cultists now go to markets and start shooting and people will scamper for their lives. Even a stray bullet hit a woman in the market but it is not confirmed if the woman is dead or alive. The situation affected social and economic life in this area. In fact, night life in Ikot Ekpene has died. On Valentine Day everywhere was dull, drinking parlours and restaurants were closed down for fear of the unknown.
"People stopped gathering in places for fear of mass arrest by the police. But I must commend the police for being able to quell the situation. And we reliably gathered that a good number of the cultists are now in police net as we speak. Police was man-hunting them and most of them ran away from the town; police for the first time succeeded in scaring the cultists away and I believe it is because those police operatives were sent from Uyo, not the ones already here".
It was even gathered that a police children school in one of the villages where the war was staged, Ita Ikot Udo, was shut down temporarily following the planned burial of one of the cult members from the area who was allegedly shot dead by a rival group in case of any possible reprisal. It was gathered that the burial was, however, postponed over alleged perceived strict police surveillance on the deceased family which may have scared the members.
And Police are still very much visible in the area as three patrol vehicles were sighted on Monday that week patrolling and shooting in the air, a situation a resident said was a way of announcing to the miscreants that they (police) were still very much in control. It was even learned that some members of the task force appointed by the state government to be collecting tickets from commercial motorcyclists and Keke operators at designated points along the road were among the cultists that fled the town for fear of being apprehended by the police.
Another resident who simply identified himself as Ukpong said: "If you check along the roads since the time war was declared on the cultists in Ikot Ekpene, all those people that sell tickets for commercial motorcyclist and Keke have disappeared because they were among the cultists that have caused residents in this area sleepless nights for some months now."
Besides, the perennial boundary/communal crises that have ravaged some parts of the Ibibio axis appear to have assumed more dangerous and violent dimension since 2016. Though not  limited to a section of the state, but the refusal of the warring communities of Ikot Akpan Udo community in Ikot Abasi local government and Amazaba in Eastern Obolo areas as well as Oku Iboku in Itu Local Government Area of Akwa Ibom and its neighbouring Odukpani in Cross River State to sheathe their swords despite peace moves initiated by government at all levels remain a source of worry.
It can be recalled that renewed hostility between Ikot Akpan Udo community of Ikot Abasi and Amazaba villages in Eastern Obolo led to killings and destruction of property worth millions of naira. Similarly over 30 persons have been reportedly killed in Oku Iboku in Akwa Ibom in the renewed war between them and neighbouring Ikot Offiong in Cross River states which started in December 20, 2016. The most affected villages of Oku Iboku in the latest attack which occurred three weeks ago are Ikot Emah, Essien, Uffa Ikot Ekpe, Uffa Oku, Uffa Obio Oku and Oba in Oku Iboku clan in Itu LGA of Akwa Ibom.
However, majority of the residents as well as civil society groups have reasoned that continuous security surveillance in the areas and proactive policing remain the solutions to averting future occurrences. For Saviour Akpan, the State Executive Director of Community Policing Partners for Justice, Security and Social Reforms, COMPPART, the rising violent cult activities in the state and Nigeria as a whole is associated with the culture of glorification of lawlessness.
His words: "When you incidentally find somebody who can afford N10 million and you give him or her chieftaincy title, the person now becomes a self-glorified godfather. Such situation does not help in the control of cultism. In fact, people now see cultism as one step on the ladder to climb to power. Research has shown that we have over 22 different cult groups in Akwa Ibom secondary schools.  This is as result of the fact that most of the teachers in the secondary schools are cult members who got the opportunity to teach; so it is very easy for them to recruit these children".
Akpan also faulted the prevailing policing approach, saying: "We are still in the era of reactive policing. Had it been we are in proactive policing where the different security forces are making use of intelligence to proactively nip in the bud the occurrences of these things it would have helped us a lot".
But Speaker of Akwa Ibom State House of Assembly, Onofiok Luke, while sympathising with students of the University of Uyo over the recent attack on them by armed bandits, had urged them to disregard promises of getting connected after school if they join cultism.
"Do not be deceived by anybody that anything good can come out of cultism. I know people will come telling you that there is a network that will connect you after school if you join cultism. That is entirely false; there is no such network. God is the greatest network you can ever depend on. After God what you know and have inside you is the next network that can guarantee you open doors to success in life," he had advised.
Meantime, worried by the escalation of violent cult activities, kidnapping and other related crimes in some parts of Akwa Ibom State, Governor Udom Emmanuel, during a monthly prayer meeting at the government house charged the police to fish out the criminals from their hideouts.
According to him, only holistic and effective intelligence by security agencies would stop the scourge. He condemned the trend where violent activities perpetrated by cult groups and  kidnappers have held almost all the local government areas of Ikot Ekpene senatorial district under siege for some months. The governor was even quick to admit that scores have lost their lives following the menace. "Over 30 persons had been reported killed in cult-related crises in Etim Ekpo, Ukanafun, Oruk Anam and Ikot Ekpene, while some others, including a Roman Catholic priest, were abducted," he said.
Crime reduction strategy
During a media parley recently, the Commissioner of Police, Mr. Donald Awunah, attributed the relative return of calm in some of the troubled areas, particularly Ikot Ekpene, to the launching of a crime reduction strategy "Operation Impact".
Awunah had announced that indepth crime analysis carried out revealed that cultism, kidnap for ransom, murder and stealing were most prevalent in Akwa Ibom. "During the design of Operation Impact, strategies were put in place to curb the menace. Consequently a notorious kidnap gang was smashed and during intertogation they confessed to have been behind many high profile kidnap cases in the state. Our security operatives acting on tip-off arrested 12 cultists planning to unleash mayhem on innocent nembers of the public on February 12, 2017and three others in Etim Ekpo on February 11".
He added that 21cult groups cutting across both sexes have been identified in the state. They included Secret Sons of Satan, Sept 11 Group, DeWell, Bat, Scavengers, Debam, King Cobra, Musket, Blood Brotherhood, Black Cross, Predators, Black Ladies, Sons of Night, Daughters of Queen Amina, White Angels, among others.