A Philippine party-list representative on Thursday filed an impeachment complaint against President Rodrigo Duterte, the first attempt to unseat the leader in his eight-month administration.
In his complaint before the House of Representatives, lawmaker Gary Alejano accused Duterte of culpable violation of the constitution, betrayal of public trust, graft and corruption, bribery and other crimes.
He said the charges were related to alleged abuses and extra-judicial killings under the administration's campaign against illegal drugs, as well as an alleged failure by Duterte to declare some of his properties.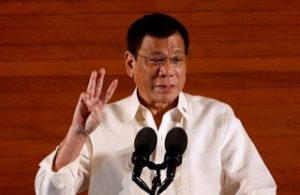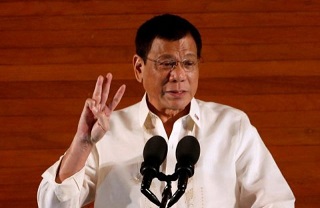 "We have intended this impeachment to be the vehicle for Filipinos to find their voice of opposition and dissent against the crimes and abuses of President Duterte," he told a press conference.
"Our role, in filing it today, is merely to be the gate-openers for those who want to be a part of his historic and moral crusade," he added.
Alejano, a former soldier who once joined coup attempts against former president Gloria Arroyo, plans "to bring the case to the streets."
"The battle for impeachment must be fought both inside and outside the halls of Congress," he said.
"Outside of it, we have the church … civil society and the greater number of Filipinos who did not vote, do not support and are not in favour of President Duterte staying in power."
Presidential spokesman Ernesto Abella denied Duterte committed any of the violations alleged in the complaint, which he noted could be part of attempts to destabilise the administration.
"It does seem like part of a larger scheme of things," he told reporters. "It just seems rather dramatic that everything seems to be so coordinated at this stage, with acts of trying to discredit the administration and trying to throw it in doubt."
But Alejano stressed, "We are not planning anything that is against the law."
The complaint is not likely to pass the House, where Duterte's allies dominate and would be expected to block the case at the justice committee, which will determine if it is sufficient in form and substance.
If approved however, the complaint would have to be debated at the plenary, where it would need one third of the 292 representatives to vote in favour of impeachment, in order to be passed on to the Senate for trial.
Since Duterte took office in late June of last year to January 30, 2017, over 2,500 suspects have died in police operations against drug users and pushers, according to official statistics.
Police are also investigating nearly 3,000 additional deaths in the first six months of Duterte's presidency, including possible vigilante killings in connection with the war on drugs.