By Muyiwa Adetiba
Depending on who you are listening to or whose analysis you are reading, Nigerians are either very easy to lead or impossible to lead. Those who think Nigerians are very easy to lead point at the relatively docile nature of the people. All the people ask for they argue, are basic amenities like light, water, roads and a place to hide their heads—amenities that other countries take for granted.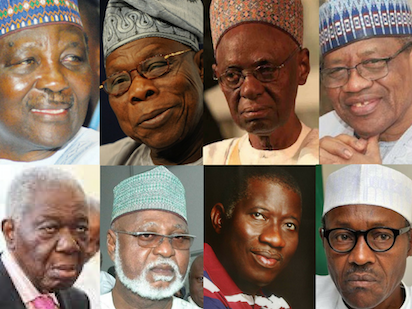 And if you can throw one or two decent meals a day into the mix, fine. Those on the other hand, who believe Nigerians are impossible to lead, point at the various contradictions in the system. How religious and ethnic considerations interplay to hold people down. How people deliberately sabotage their own future and that of their children because of a plate of porridge. How they hail and defend the very people who are exploiting and bleeding them. How foreigners cart away the goods of the land through the tacit cooperation of our leaders—local, state and national.
The issue of leadership came out in bold relief again recently when Vanguard held its economic discourse on 'the hard facts to rescue the Nigerian economy.' The discussants were all erudite, knowledgeable and experienced debaters. And with the exception of Bismarck Rewane, Issa Aremu, Muda Yusuf and possibly Alex Otti, they had all worked in the public space at one time or the other.
Each discussant including the keynote speaker Prof. Charles  Soludo, seemed so definite about what the problems with the economy are and the possible solutions, that you wonder why they didn't fix them when they had the opportunity to do so. Yet, like the biblical tower of Babel, each discussant spoke in different tongues and proffered different drugs to the ailing economy depending on their self-interests—the Trade Unionist, the Banker, the Public and Private Officials. Sitting next to me was Dr Dele Sobowale, an economist and public commentator. I turned to him to ask if he could help translate the 'Latin' that was coming from these erudite gentlemen into plain English. He smiled wryly and said, 'they know what the problem is.
They are just protecting their turf.' In other words, they were being less than honest to the rest of us who look up to them for genuine solutions. At a point, they got personal. Now there is nothing wrong in my book about being personal if it is borne out of passion and pursuit of truth—people must 'own' their actions while in public service and be ready to defend them anytime, anywhere. But it is self—serving if it is just to deflect the truth or score a personal point. It is even worse if it is based on speculations and rumours. Because we need leaders to help solve our varied problems, I want to enumerate a few of the qualities a good leader should have.
The first quality we demand from our leaders is character; and that embodies integrity and sincerity of purpose. Too many of our leaders are without character and are therefore unable to set behavioural limits for themselves. Too many things go wrong in our developmental processes because they are conceived and executed with ulterior motives. Many governments lose their credibility so quickly because they lack character. For example, the lie by some government officials that the President was hale and hearty only for him to later admit that 'he had never been so ill in his life' was unnecessary.
If you can lie blatantly about something so obvious, how can you be believed in matters that are not so black and white? Another quality is humility. The term 'servant leader' should be a way of life for our leaders. It was a bit upsetting to see the number of able-bodied men that followed Mr President in the short walk between his residence and his house on his first day at work. Are they jobless or was that supposed to be part of their jobs? No serious leader should allow himself to be surrounded by cronies because they can disconnect him from his people and turn him into a super god. We have seen how First World leaders carry their brief cases and walk briskly about. Why do our leaders need an entourage to follow them to the toilet? And while at it, I don't understand why we need security men running after cars and standing like 'stiffs' behind our leaders.
Another desired quality is empathy. A good leader should be able to listen to, and empathise with his people. This idea of turning agitators back—sometimes forcefully—at the Aso Rock gate is wrong. They are people, your people, not animals. Their grievances, genuine or not, should be listened to. Empathy is a way of connecting with them and showing that you care. It was a breath of fresh air when Osinbajo listened to the union leaders in Aso Rock and agitators in Niger-Delta. What was more, it doused tension immediately.
And speaking of tension, humour is a good quality for those who have it. It eases communication and promotes conviviality. A taciturn leader unwittingly distances himself and eventually invites confrontation. Another important quality a good leader must have is the willingness to go the extra mile to protect his people. All lives matter and a good leader should promote the sacredness of life. The wanton killings in our land give cause for concern. So do the loss of property and means of livelihood. But beyond that is the loss of dignity especially by Nigerians in the diaspora. The story of South Africa and the role Nigeria played in its fight against apartheid is not so far back that we could all have forgotten.
I still vividly recall the conversations I had with Joseph Garba and Leslie Harriman during the anti-apartheid conference of 1977 about black rule in South Africa. To see how South Africa is paying us back is a shame indeed. I wonder how Foreign Ministers Garba and Akinyemi—were they still in office—would have reacted not only to the indignity in South Africa but also in the United States where a young Nigerian was allegedly locked up in a cold room for four days without committing any discernible offence. I am almost certain they would have come out forcefully to project and protect the interests of Nigeria everywhere. The humiliation of a Nigerian anywhere should be the humiliation of all Nigerians, including the President.
So beyond promoting the economic and social well-being of his people, a good leader should also promote their self-worth. So a leader who can make me proud—again—of my green passport; who can make me want to come home as soon as possible from wherever I am in the world, is indeed my kind of leader. He is the person I am looking for come 2019.