By Daud Olatunji
LAST year January, Ogun State Governor, Senator Ibikunle Amosun, disclosed that the state has the largest number of illegal land border entries into the country. Amosun hinted that all the illegal borders scattered in some parts of Ogun West Senatorial District have been causing huge challenges to the state in the area of security.
The governor said; "The illegal borders are in Ipokia, Imeko Afon, Yewa North and now, many are springing up in Ado-Odo/Ota axis of the state, they are giving us huge challenges". All these areas mentioned by the governor are located in Ogun West Senatorial District of the state.
The state's acronym is "Gateway to Nigeria" because of its status as it borders Lagos State to the south, Oyo and Osun states to the north, Ondo to the east and the Republic of Benin to the west. The state is notable for having a high concentration of industrial estates and being a major manufacturing hub in Nigeria.
Meanwhile, Nigeria Customs Service generally plays a pivotal role in the economic life of any country. There is hardly any sector of the economy that is not directly or indirectly affected by the activities of Customs.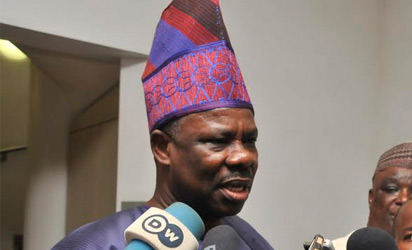 Statistics for planning
Findings have shown that, functions of the Nigeria Customs Service include, but are not limited to collection of revenue (import /excise duties and other taxes /levies) and accounting for same; anti-smuggling activities; security functions; generating statistics for planning and budgetary purposes; monitoring foreign exchange utilisation and working in collaboration with other government agencies in all approved ports and border stations among others.
While Customs was working for the generation of revenues for the country, some countrymen were also working for survival and as a result there was a clash.
In Ogun State, there are some areas that are known for smuggling. The people in these areas  smuggle for survival. And in the process of preventing contraband goods from being smuggled into the country, many lives have been wasted on both sides –  Customs and the residents.
The list of clashes between the residents of the state and men of Customs is endless. For instance, in May 3, 2016, the Oke-Odan town located in Yewa South Local Government area of Ogun State was thrown into  as officials of the Nigeria Customs Service allegedly shot dead two children and three others while pursuing smugglers. Many more bloody clashes have occurred between men of Customs and suspected smugglers leaving many  dead and injured.
Prior to the recent onslaught by Customs, there had been cases of men of Nigerian Customs Service in the state invading some markets in Abeokuta and carting away bags of rice from the sellers; Kampala marketers among others were also not spared from the onslaught. Markets like Kuto, Omida, Adatan and Lafenwa in Abeokuta have been invaded by men of Customs searching for contraband goods and eventually seized some  wares running into millions of naira in those markets.
On February 22, 2017, rice sellers in Sango-Ota market in Ado Odo/Ota Local Government Area of Ogun State alleged that men of the Nigeria Customs Service, NCS, broke into their shops and carted away about 5,000 bags of rice in the wee hours of the morning. Two weeks after, the Customs men struck again, allegedly killing no fewer than four persons while chasing vehicles loaded with bags of rice.
The incident which occurred along Kobape-Siun-Sagamu express way almost led to a break down of law and order as protests trailled the killing of the persons including a commercial driver, Saubana Koleoso. Just as residents in the state have tales of woe to tell as a result of loss of their goods and lives of their family relatives, friends, neighbours and business partners, the men of NCS also have many tales of woes to narrate.
The immediate-past Comptroller of Customs in Ogun, Waindu Multafu, said the agency makes "seizures every day," from smugglers, noting that once in a while, "if it happens that we are on the defensive, we have to use our guns."  According to the former comptroller, Ohunbe, Oke Odan and Ilase are some of the notorious places located along the road to Ajilete in the state.
Stakeholders' meeting
The comptroller said that when he resumed in Ogun Command on January 2016, he called for a stakeholders' meeting, thinking that both parties would not always to be at war. "After some days, they (smugglers) over-ran two of my officers with a motorcycle; one is in a private place of healing and another is in a hospital in Kano. Once we made seizures at Ajilete. They barricaded the road, matcheted our officers and took away two of our rifles  constrained my officers from shooting.
The official also described an attack where the customs recorded some casualty. The last time, in the process of bringing the seizures from Ajilete, the miscreants blocked the road. The Comptroller further said: "Our officers secured the seizures and in the process, there was a shoot-out and we recorded some casualties. We have intercepted a lot of motorcycles being used in smuggling. They use a kind of vehicle that can carry 80 bags of rice. As long as the service has been authorised to entrench and implant Federal Government's fiscal policy on anti-smuggling activities, we will continue to carry out our responsibility.
He described the Idiroko border as the most notorious of border posts in West Africa, adding that "I cannot say how many of our officers were killed right from Seme up to Idiroko and Imeko. The lands are accessible to any would-be smuggler, the terrain is another obstacle to smooth operation because everywhere is road. There is no constraint in terms of crossing the border that there were three major entrances – Idiroko, Ohunbe and Imeko".
Meanwhile, emotions ran high at Balogun Apomu Compound in Ojaagbo, Gbagura area of Abeokuta, the residence of a 60-year-old woman, Mrs Fatimo Koleoso whose son, Saubana Koleoso, a commercial driver, was allegedly killed during a controversial operation by men of the Nigeria Customs Service in Ogun State. The distraught woman while speaking with Vanguard concluded that her hope was dashed by overzealous state agents, who she said decided to expose her as she could not either walk or work again due to ailments.
Vanguard gathered that the late Saubana, popularly known as Onila, had done a lot to get her mother healed of her ailment in recent years. It was further gathered that the late Koleoso was the immediate past chairman of National Union of Road Transport Workers (NURTW) at Grammar School Unit, Abeokuta, and had used income from his transportation business to cater for the family.
Mrs Koleoso narrated her ordeal over the great loss, saying, the deceased was survived by four children and a wife as well as parents and siblings. She disclosed that Saubana's wife was still weaning a four-month-old baby, adding that a four year-old child of the deceased recently had his arm amputated following an injury. When asked what could console her over the loss of her child, the distraught mother said, "My son was not a smuggler. He did not travel to Cotonou. He usually conveyed rice from Kuto to Mowe, Sagamu and other destinations. Before he travelled on the fateful day, he came here and bid me goodbye.
"I can't walk. I've been ill for some time. In fact, we just finished payment of the debt we owed over the case of his child whose arm was amputated. The amputee was still being taken to hospital for medical attention. He loved the kid very much. We want Governor Ibikunle Amosun to come to our aid. We never knew rice has become a forbidden commodity that must not be transported within town. We only knew it's an offence to bring it into the country through the borders in Cotonou. We never thought they could be shooting people for merely transporting rice within town. The government should save us and come to our aid. My son left four children, including an amputee. Who will fend for them? His wife just gave birth to a baby. That one is four months old. "I have been ill for three years. I can only sit down".
Also speaking, younger sister of the deceased, Mutiat, appealed to the authorities to release her brother's commercial vehicle to the family. She said: "We wanted to go and toe his vehicle from the scene. But we got to know that the vehicle had been taken to the Ibara police station. We want the car to be released to the family. Perhaps we can still repair it because of his children. We don't want his property to waste away like that. We don't want to suffer again in the process of retrieving the car."
Investigation by Vanguard revealed that on the fateful day, Saubana had been hired to convey some bags of rice to Sagamu. It was gathered that, the late Saubana took off at the Kuto Park in Abeokuta with the rice loaded in his Mazda 626 car. Other drivers who were hired to transport similar goods also left about the same time. Further findings showed that a team of Customs operatives on patrol sighted them on the Kobape-Siun-Sagamu Expressway ,mistook them for smugglers and chased them.
An eye witness told Vanguard that in an attempt to stop Saubana, the Customs officers opened fire on his car. According to the source, the vehicle somersaulted several times and the driver died in the process. An unconfirmed report had it that, there were claims that bullets hit him on the thigh and on the head. An unidentified man, whose car lost control in the ensuing melee, also died during the incident.
Also, unconfirmed reports added that two others who initially sustained injuries in the resultant crash later also lost their lives. But the Customs Public Relations Officer of Ogun Area Command, Usman Abubakar, absolved the agency of any blame. Abubakar said, "The information at my disposal is that one of our patrol teams went on routine patrol along Kobape-Sagamu Interchange. Based on credible information available to them that some smugglers were coming through that route, they waylaid the smugglers. On sighting Customs vehicle, the occupants of those vehicles now started on top speed.
"In the course of the operation, one of the vehicles fell into a ditch. The occupants of that vehicle ran away. Our men brought the vehicle down to Abeokuta station."So, that is the information I have. There was no shoot-out with anybody. Our men have no cause to shoot anybody. They are well trained and they operate according to international best practices."
Meanwhile, the Ogun State Governor, Senator Ibikunle Amosun has condemned in strong terms the killing of persons by men of the Nigeria Customs Service, at Kobape in Obafemi Owode Local Government Area of the State, along the Abeokuta-Sagamu expressway.