By Victor Ahiuma-Young
THE crisis rocking the Labour movement in Nigeria, is fast assuming a dangerous dimension as Nigeria Labour Congress, NLC, and its Trade Union Congress of Nigeria, TUC, counterpart, for the second time in less than two months, have written the Minister of Labour and Employment over the new labour centre: the United Labour Congress of Nigeria, ULC. This time, they are contending that ULC and some unions seeking registration should not be registered to avert anarchy in the nation's industrial relations system.
But ULC on its part, told the Minister to ignore their ranting, insisting that the nation's laws were clear on the processes of registration, declaring that "the time for raising the fine points of the law are clearly not now as it does not have any intentions of turning the Federal Ministry of Labour into a law court."
Need to avert anarchy
In a joint letter to the minister by presidents of NLC and TUC, Ayuba Wabba and Bobboi Kaigama, dated January 19, 2017, titled "Need to avert anarchy in the industrial relations system in the country: Mushroom /shell trade unions", they claimed among others, "along with the ULC, the list of shell unions being proposed to be registered by this group include the following: Nigeria Automobile Technicians Union; Motor Mechanics and Technicians Union of Nigeria; Association of Professional and Corporate Drivers of Nigeria; Association of Federal Universities Pensioners; Association of Hospitals and Administration Pharmacists of Nigeria; Road Transport and Allied Senior Staff Association of Nigeria;  National Union of Mass Transport Allied Workers; Creative Workers Union of Nigeria; Association of Retired Civil Servants of Nigeria; Judiciary Senior Staff Association of Nigeria; and Senior Staff Association of Medical Health and Allied Workers Union  of Nigeria.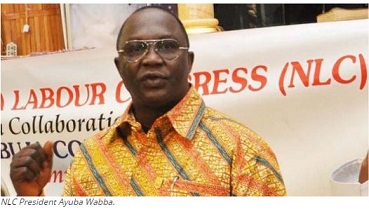 "As a cursory look at the above list will show, these are areas that have been adequately covered by existing unions. Take for instance, the proposed Senior Staff Association of Medical Health and Allied Workers Union of Nigeria. There are presently four unions in the medical and health sector that have covered all the cadres within it. These include National Association of Nigeria Nurses and Midwives, National Union of Allied Health Professionals; (formerly called National Union of Pharmacists), Medical Laboratory Technologists and Professionals Allied to Medicine, Senior Staff Association of Teaching and Research Institutes, and the Medical and Health Workers Union of Nigeria. While the first and the fourth unions are affiliated with the NLC, the second and the third are affiliates of the TUC.
"The other point that needs to be made is the fact that contrary to the mischief intended in the proposal to register this so called Senior Staff Association of Medical and Health Union of Nigeria, the Medical and Health Workers Union of Nigeria is not just a junior staff union. This is borne out of the fact that it unionized cadres from junior to senior salary grades in the public service.
Unions in the road transport sector
"It also unionizes across both public and private sectors. In the same vein, the Judiciary Staff Union of Nigeria, JUSUN is by no means a junior staff union. Its current president, who is being sponsored by the NLC to the Senior Executive Course in NIPSS, Kuru, is a senior judicial officer. Our investigation also revealed that the names submitted as officials of this so called senior staff association are fake, or do not work in the judiciary.
"Attempting to float three or more unions in the road transport sector, with all the volatility in the sector can only heighten tension and promote anarchy in the sector. Similarly, the group wishes to float two additional pension unions in the universities and among retired civil servants.  We all know that there is the Nigeria Union of Pensioners NUP, with a retired public servant who has a Ph.D as president."
In its response dated February 13, 2017, ULC through its President, Joe Ajaero, described the letter as unfortunate and imperious, by organisations making dubious call couched in some jaundiced understanding of the statutes governing its operations within the nation's industrial relations sphere. ULC in a 17 point response, among others said: "We are surprised that every year these comrades attend the ILO conference without fully coming to terms with the tenets of its conventions. Perhaps, they may understand the provision of ILO's convention on the unfettered freedom of workers all over the world to freely form platforms in restraint of trade without understanding its implications for workers and trade unions. ILO champions the unfettered freedom of workers to form platforms all over the world through which they pursue their workplace interests and desires and this noble provision is what is palpably being attacked by these "comrades" on the altar of personal ambitions and aggrandizement. Does it mean that they attend ILO conferences without believing in its predicates?
"We believe in the unqualified rights of every Nigerian worker to seek the creation of platforms that would allow them to better articulate, project and protect their interests in all circumstances and at all times. We therefore encourage such workers with such desires to please go about it without fear or favour within the ambits of our laws and natural justice.
"When the TUC sought registration as a labour centre it should be noted, the same argument that it would cause anarchy within the industrial relations space was bandied about by the NLC as blackmail against the government to ensure that it exercises monopoly of abuse and violation of workers' rights and privileges in the country. However, it did not work and TUC was rightly registered but rather than cause anarchy, it had the opposite effect.
Registration as a labour centre
"It is, therefore, unfortunate that TUC which was a beneficiary of the ILO conventions and the laws of our land would seek an unholy alliance to deny others the benefit of the same paths they have trodden. This is truly a shame. We want the Federal Ministry of Labour to remind the TUC that it started operation as FESSAN in 1978, metamorphosed into SESCAN and then TUC until it got its licence in 2005 after the review of the Trade Union Act. It should be noted that the TUC was involved in all manners of activities far more than we have thus far done for that 27 years that it took them to gain registration without molestation or harassment from other social partners. Why TUC thinks that "what is good for the goose is not good for the gander" in this case surprises us all and we feel it bothers on mischief.
"However, we want to remind the authors of the said letter that the law which they have so copiously quoted also provides that a trade union seeking registration is allowed to operate and do all things provided they are to help it achieve registration. It was this provision that enabled TUC to function without let or hindrance from 1978 to 2005 without registration. Why the NLC/TUC fails to recognise this provision is also one of those cases of selective amnesia that has ruined our nation. The ULC remains a law abiding entity which is operating within the ambits of the nation's extant laws governing Industrial Relations.
Frivolous demands
"Anybody, therefore, making frivolous demands on the Federal Ministry of Labour to work against the tenets of the law and the traditions of our engagement as social partners is truly guilty of attempting to sabotage the practice and precepts of Industrial relations in Nigeria. Indeed they are the true anarchist that should be cautioned. It is also important that we state categorically that the ULC is not involved in planting trade unions much less of the ones that were described as mushroom or shell unions. This statement coming from them is frightening indeed. We shall not stand against any group of workers whose intention is to found a trade union to pursue their collective agenda. We will rather support them if our assistance is sought. We, therefore, formally use this opportunity to call on any group of workers harbouring such interest and believe we can be of assistance in any form to please approach us for such help."
However, it is indeed unfortunate and speaks to the superficiality of understanding within the leadership cadre of the movement as to one of the key functions of the trade unions especially the labour centre – Organising. We still wonder what is being taught in our trade union education classes and whether it is different from what we teach in our own workshops.
We are convinced that the release of the names of trade unions seeking registration even before the birth of the ULC to the authors of the letter seriously compromises the integrity of the Registration process and undermines our confidence in it. This is borne out of the fact that it was not one of the information they sought in their original letter to your Ministry. Some operatives of your ministry may have gone beyond their reach to make it available to them thus needs your investigation. However, since the list has been made public, we shall take steps to contact these unions seeking registration for the purposes of organising and affiliating them into the ULC towards creating a more vibrant and harmonious Industrial relations sphere in Nigeria. We are amazed that these numbers of Unions representing a chunk of Nigerian workers are shut out of the organised trade union sector. We shall work assiduously with your Ministry to correct this aberration.