By Johnbosco Agbakwuru
ABUJA — THE leadership of Nigeria Labour Congress, NLC, weekend, condemned the new policy of the Nigeria Customs Service, NCS, which directed all motor dealers and private vehicle owners, whose customs duty were not paid to do so before April 12, 2017, describing such directive as unrealistic.
The National President of NLC, Comrade Ayuba Wabba, said in a letter addressed to the Comptroller-General of Customs, NCS, Colonel Hameed Ali (retd), said the policy was self-serving, to enrich some "unscrupulous personnel" of the service.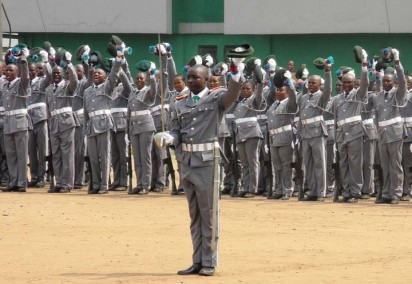 Comrade Wabba in the letter dated March 7, 2017, said instead of coming up with a policy that would be difficult to implement, the NCS should devise a coherent response that will deal with the myriads of challenges facing the service, including porous borders and extortion on the roads.
The letter read: "Our attention has been drawn to a press statement dated Tuesday, March 2, 2017 and signed by Mr. Joseph Attah, Acting Public Relations Officer on behalf of the Comptroller-General directing 'all motor dealers and private owners' of vehicles 'whose customs duty has not been paid, to do so,' between Monday, March 13 and Wednesday, April 12, 2017, as 'there will be an aggressive anti-smuggling operation to seize as well as prosecute owners of such smuggled vehicles after the deadline of Wednesday 12th  of April 2017.'
"The statement accordingly, directed vehicle owners to Customs zonal offices in Lagos, Kaduna, Port Harcourt and Bauchi to have their vehicles certified, if Customs duty has been paid on them.
"We are all aware that one of the statutory functions of the Nigeria Customs Service is to collect tax on behalf of the government, often times in the form of duty on vehicles.
"The citizenry, both corporate and non-corporate, as part of their civic and commercial responsibilities, are expected to pay appropriate duties on their vehicles as demanded by the law.
"Sadly, some, out of irresponsibility or sheer criminality, devise ways and means of evading this responsibility. For instance, some take measures as desperate as "flying" their vehicles into the country, thus denying government the needed revenue."
"We strongly hold the view that those who break the law or seek to break the law should be sanctioned to serve as a deterrent to others. The need to enforce tax laws in our country is all the more necessary because of Social Justice and other dwindling revenue sources.
"Our support for the Nigerian Customs Service is therefore not in doubt. If anything, the Customs should be encouraged to do their work well.
"However, we are opposed to this new policy.  It is logistically-callous and will create unimaginable chaos and suffering for innocent vehicle end-users.
"It is self-serving and will in the end enrich unscrupulous Customs personnel who contributed in no small to the present situation through acts of commission or omission. It will amount to rewarding their complicity.
"It is common knowledge that duties on imported vehicles are payable at the point of entry. Subjecting vehicle end-users to this kind of trauma, majorly of whom have no hand in the importation of their vehicles, is unfair and unacceptable.
"There is no information on the vehicles to be excluded from this exercise. This presupposes that the owner of a Morris Minor or a Peugeot 404 brought into this country in the 70's is similarly affected.
Subscribe for latest Videos