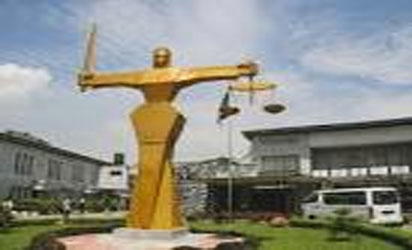 judicial symbol
Justice Halilu Yusuf of the FCT High Court, Jabi has ordered the Nigerian Prisons to plan for surgery to extract the bullet lodged in the leg of a defendant for trial.
The judge gave the order on Wednesday before adjourning  the case of the alleged robbery preferred against 10 men to  March 27.
He said that this should be done before the defendants were brought to court on the next adjourned date.
The 10 suspects are Livinus Mbagha, Uchenna Mbagha, Godwin Timothy, Onyekachi Nnamdi, Ifeanyi Oram, Raini Nludshira, Cyril Ubah, Aniekan Sunday, Chigozie Chukwu and Ikechukwu Egbo.
According to the Judge, it is the duty of the prison authority to take care of the welfare suspect at the prison custody.
He said that a suspect at the prison custody was still deemed innocent until the contrary was proven by the law.
Uchenna Mbagha had told the court that there was a bullet in his leg making it difficult for him to stand.
The prosecution had told the court at the first day of arraignment, Nov. 15, 2016 that the suspects were being arraigned for robbing the property of Lento Aluminium company Jabi, Abuja.
But the judge adjourned the proceedings following the absence of the prosecutor, Mrs Blessing Ezeala, at the court when the matter resumed for hearing.
The judge said that since the court had waited up till 12:30 p.m., it had no option than to adjourn the matter to another date.
According to the prosecution, the suspects disguised themselves as policemen between 2 a.m .and 5 a.m. on May 28, 2016, beat up and tie the security men on duty to carry out the robbery operation.
The prosecution said that the suspects robbed the company of 10 aluminium coils worth N25 million and other valuable items.
Ezeala said that the crime contravened the provisions of sections 1, 2, 3 and 6 of the Robbery and Firearms Special Provision Act, Law of the Federation of Nigeria, 2004.