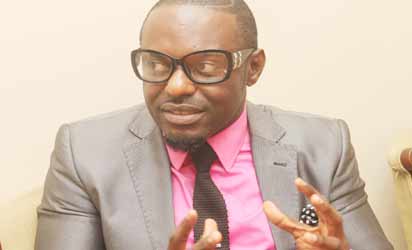 Jim Iyke
By Benjamin Njoku
Nollywood bad boy, Jim Iyke, who has been missing on the big screen in recent times has resurfaced in America. He was one of the seasoned actors that featured in Lancelot Imasuen's upcoming romantic comedy titled "Yet Another Wedding Day," which was shot in the States  few weeks back.
Starring alongside Stella Damasus and Joseph Benjamin, Jim Iyke has rarely been seen on the big screen in recent times. The last that was heard of him was when he featured in actress Joselyn Dumas' programme on Africa Magic last year. But starring in this new movie as Damola marked a comeback to his first love-acting.
Lancelot  who returned to the last week recounts that it was a comeback movie for Jim Iyke, whom he said, had a swell time with his colleagues on set. He described  the six man-cast movie as "another unimaginable trailer from me."
Recall that the popular  director cum producer early this year toured America again with his award-winning comedy movie, ATM (Authentic Tentative Marriage), which premièred at Dallas and Houston, after it was screened at the Denton Black Film Festival,on the 29th of January. It was while on the tour that he shot the movie.
According to him, "I  shot a major project tentatively titled  "Yet Another Wedding Day" where I starred seasoned actors including Stella Damascus, Jim Iyke and Joseph Benjamin. We also  introduced two great actors that Nollywood will very proud of in due time, Felix Omotoshe, and Seirail, Nigerian-born  America actors. It is another unimaginable trailer for me, a romantic comedy. But this time, it's deeper with stronger theme."
"I discovered we are not crafting stories around the  second generation of Africans in diaspora. That's what we explored in "Yet Another Wedding Day", where we looked at the host society and the diasporan society. The movie is in its post-production stage," Lancelot hinted.
"In this film, we were able to bring to bed, in-house conflict between the first generation diasporans that travelled out of Africa and their second generation kids that were born in America."
The film is a six-man cast, and it's described as 'a great thriller' by the celebrated director.  Lancelot said, they spent about five weeks, shooting the movie, with his partner, Whitestone Productions Pictures, an American production outfit owned by Robert Peters.