By Emeka Mamah
Nnewi—The Indigenous People of Biafra, IPOB, yesterday alleged that the All Progressives Congress, APC-led government was not ready for the fair trial of its leader, Mr Nnamdi Kanu, but rather, it has always looked for a way to eliminate him.
It also alleged that the Federal Government, through its security agents and Justice Binta Nyako's court is deliberately frustrating Kanu's trial to buy time and perfect their plans of eliminating him.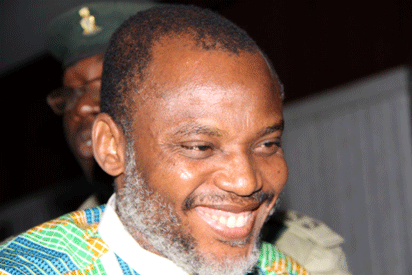 IPOB in a statement by its Media and Publicity Secretary, Mr. Emma Powerful, alleged that the new plan to use a secret trial for the case involving Kanu and others standing trial with him is to perfect plans to kill Kanu having allegedly tried several times without success to do so.
According to IPOB, "The delay in releasing Mr Kanu and his continued  detention in Kuje prisons is to perfect plans, after several attempts without success to snuff life out of our leader. It is no more a secret and the perpetrators are using all kinds of plans and delay tactics to continue to hold him while trying to eliminate him in such a way that will leave no traces.
"The Federal Government has again introduced the long-forgotten secret trial  to buy time, having failed severally to eliminate him. With the new decision to use secret trial and sharia law to prosecute his case, they believe the attention of the world will not be on them .
"We are aware that the Federal Government has never been ready for a fair trial of Mazi Kanu because they have a bad case and they have proved us right with all their moves and delay tactics. All they are doing is for attention to be removed from them, so they can eliminate him."