By Charles Kumolu
Our guest today, Mr. Andy Wabali, Managing Director of Pan Energy Resources, discusses his life as a managing director of a leading oil and gas firm, former managing director of a Mortgage Bank and someone, who had a banker grandfather, father and ended up a banker. He also offered insight into how some challenges in the oil and gas sector could be surmounted. Wabali holds a B.Sc and MBA in Finance.
TELL us the story of Andy Wabali? God has been faithful to me so far. I am someone who does not have regrets about all experiences I have had.  I have learnt that everyone should have a voice and must be heard. It is one vital lesson that I have learnt. I started very early in life.I  was priviledged to have a background where I am a third generation banker in my family. My grandfather and my father were all bankers and I followed that pattern. It has been something that I have always longed for. From the day I started banking, I told myself that I was not going tp stay beyond 10 years on the job.  I told myself that I would be at the top echelon within that period. And I achieved that. Of course, it was not an easy ride  but my vision ensured that I achieved my target. I started banking with Societe Generale and I moved to Fountain Trust Bank.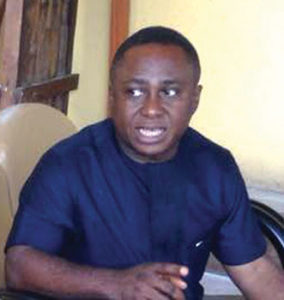 Managerial responsibilities
I later moved to Platinum Bank , where I was the head of Oil and Gas Unit. It was a good experience for me especially when I started having managerial responsibilities. At Platinum Bank where I was the head of oil and gas unit, I was the head of energy in the South South zone I moved to RMB where I had branch managerial responsibility. At RMB I was the group head of recovery in South East South South.
With my entrepreneurial urge, I moved to a mortgage bank where I was the Managing Director. All the experiences I learnt made me who I am today. When I left consolidated, I went into oil and gas. In all these, I learnt that everybody must be heard. If my superiors did not hear me I would not have been where I am today.
What were those things that attracted you to oil and gas having risen to the position of a Managing Director of a Bank?
It was never by accident because all through my banking carear, I was in the Oil and gas sector. I have done a lot of structured deals in the oil and gas industry. It is an industry that I understand so much. And it was a smooth transition for me because I understood many things about the industry.
What were the key factors that shaped your upbringing?
I got so much discipline at home and school. For instance, in my house then, it was a crime not to go to church. It was more of a focused life. I was thought to be hardworking and disciplined. And I  have applied that to everything I do.
Were there times you were discouraged in your steps to significance? If yes share it with us
I have had low times and hard times. Whenever I have targets and sit down to think about them, one naturally gets discouraged. But after a few deep thoughts, I get ideas on how to surmount them. Growing up, it was a crime not to attend Sunday school. It is more of a focused and disciplined life for me. With these, I was able to overcome because God has never failed me. Sometimes when I had issues at work, things always change for my good. However, I am not discouraged when I see frustrations. I am always encouraged in the face of challenges.
Can you give us instances when you had challenges?
During the run up to my wedding, I was torn between my work and personal issues. I was torn between a court case and the wedding.  I was trying to solve it so that it would not result in a court case. It was a lingering problem between my customer and their clientele. It was really tough. We gave a warranty and were committed to seeing that there was performance.  The performance issue arose but it was a dilemma. On the eve of my wedding, I was in the office trying to broker peace so that we could settle. It had to do with mining and sand dredging. At that time I didn't even know if I had a job or not because it was a crisis period. After that, I had to go for my wedding the next day but it was really tough.
On oil and gas
All the period I spent in the banking sector was in the oil and gas unit. I was instrumental to the partial deregulation of the industry. That was when tank farms were coming up. We were the pioneers of that era. So it was easy for me to realize that there were a lot of needs in the industry that could be met. So, when I had the opportunity of doing my own thing, it was natural that I  went into oil and gas. I saw that there was a need in the downstream and upstream so I keyed into it.
On industry
In the industry, we have done so many things on the service side. We have tried to bring in original equipment manufacturers to assist the industry. That was part of our commitment to technological transfer. It is important that we become original equipment manufacturers of oil and gas equipment. That will assist the industry and we are doing that. When some of that equipment are manufactured in Nigeria, the challenges confronting the industry will be less. However, the fluctuations in the foreign exchange market are not helping us.
On  PIB
People say that the PIB is the response to most challenges in the industry, but I disagree with it and I have my reasons. It can not be the answer to every challenge in the industry because it has never been implemented and we have not invested in it and will still be reviewed when it is passed into law. It is a near answer to most of the problems in the industry. I think it is important to ensure that it will not be like the power sector that was deregulated without results.
I am saying that the PIB should not  take us back to square one in the oil and gas sector. The bottleneck in the PIB should be removed so that when the law is passed more investments will come to the oil and gas sector. It does not even end at just signing the bill into law.
But how ready are we to grapple with the challenges that may come up with the PIB? To do that, we must ensure that our banking system is boosted with capital to be able to finance major oil and gas investments. Without the necessary structures, the PIB will not be able to succeed. By now, the country should be putting everything in place for the eventual implementation of the PIB. I expect the promoters of the bill to do more by making those, who don't know what the PIB is about to understand what it stands for.
On Bioenergy
I know much efforts are being tried to have an alternative to crude oil but they are still at the planning stage. Biofuel can't meet the energy needs of the world. It will take about 50 years for bioenergy to meet the energy demand of the world. I am not ruling out the fact that it has a future but it will not happen in the near future. Crude oil will remain the major commodity. The fluctuations will only be about demand and supply because oil is found in nearly every part of the world. A lot is happening butI know that oil will remain a major commodity in Nigeria in the next 50 years.
Do you think the order given by the federal government to oil companies to move their operational base to the Niger Delta region will make a difference in reducing militancy in the region?
It is a good directive.  But the government has enough to do in that regard. They should create the enabling environment for the companies to move in there. A lot has happened over the years. It is not a marching order because so many things have to be put in place.
Enabling environment
The oil companies should be provided with all the enablers that will make them comfortable in the region. Positively, it will turn around a lot of things in the region. I come from that area and I am sure of what I am talking about.
I know the mood of the people there. When LNG came from Lagos to have their headquarters in Bonny, there was an added value to the local economy. So, if Shell or NNPC come to stay in the region it will help in bringing peace to the region because one of the things the youths are talking about is the lack of jobs.
When that is done, kidnapping in the region will be a thing of the past. But the government should provide the number one enabler which is security. When the oil companies come in the security will also improve.
On personal values
I have a conscience towards God and my fellow man. I am a man who believes so much in relationships. So, I do much to build and keep relationships. I am a passionate person. If I believe in something, I try so much to do the best I can.
Subscribe for latest Videos