By Rotimi Fasan
THERE have been a series of unfortunate events involving Nigerians abroad in the last couple of weeks. From South Africa where Nigerians were made victims of xenophobic attacks to the United States of America where Nigerians with valid visas were prevented from entering the country, the story has been the same: the undeserved humiliation of Nigerians and the seeming unconcern of the Nigerian government to the plight of her citizens.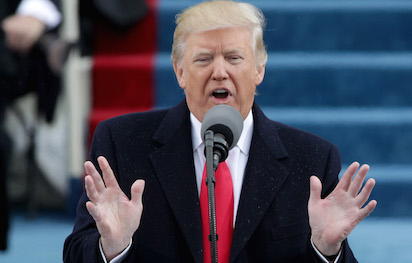 The issue of Nigerians being turned back from America followed the renewal of the travel ban initially placed on citizens of seven countries that included Libya, Somalia, Sudan, Iran, Iraq, Yemen and Syria. These Muslim-dominated countries were accused by the Donald Trump administration of sponsoring terrorism. The order resulted in chaos for travellers to the US including many from countries not covered by the ban. The confusion and general chaos that trailed the operation of the Executive Order that gave birth to the travel ban would lead to legal battles that culminated with a US court order that nullified the travel ban.
Somewhat chastised but far from satisfied with the court order, the Trump administration would go back to the drawing board before returning with a slightly modified version of the initial order, this time taking one of the seven countries affected off the ban list that is designed to last for 90 days in the first instance. In both its earlier and latest incarnation Nigeria is not  on the list of countries affected by the travel ban. But in typical fashion, citizens of this country are made to suffer for the sins of others.
Thus Nigerians visiting the United States are being made to feel the full weight of the ban, perhaps, far more than citizens of countries included in the ban. Many who have visited America in the wake of the latest ban have had very sad tales to tell as they have been turned back peremptorily at the port of entrance. It's not the fact of their being turned back that hurts. It is the manner they have been treated that should get any right thinking person to wonder why the Nigerian government has so far appeared flatfooted and unresponsive to the humiliating treatment of her citizens. This is not surprising considering the way Nigeria has in the last 30 years or thereabout responded to the inhumane treatment of her citizens by foreigners.
While it is the right of the Americans as any other country to ban any unwanted visitors from their countries, it is trite knowledge that such ban or denial of visiting privilege should be based on generally known and acceptable travel rules. Both as a candidate and now president, Donald Trump has made it clear that his priority is first to America and Americans. His slogan has been 'America first' in a bid to make 'America great again' or 'safe' for Americans, and if truth must be told he owes no one any apology about this. What other right thinking governments around the world have done is to make clear to America what their own priority would be in the face of America's growing nationalism under Trump: to protect the interest of their own country. In both action and utterance this point has been made clear to Trump even by traditional allies of America in Europe that have been troubled  by the rhetoric coming out of the Trump White House.
But without saying Nigerians are unwanted in America, in fact following assurances by American diplomats in Nigeria that Nigerians with valid travel documents have nothing to worry about the travel ban, the new administration has set upon Nigerians in a manner heretofore unseen. Nigerian travellers are not just being turned back upon arrival in America, their valid travel documents are not just being revoked with despicable pleasure by American border agents, these hapless Nigerian travellers are being criminalised and thrown out on the streets or into jail without any iota of respect for their dignity or human rights. Entire families are left to languish in the bitter cold of a hostile environment for no other reason than visiting America even with valid documents. And rather than asking questions and taking decisive steps to protect her citizens the Nigerian foreign ministry appears content to rely on the assurances of American diplomats that Nigerians are free to visit America. It appears the Nigerian Foreign Ministry is more interested in protecting its turf from 'interlopers' than acting to strengthen consular services to protect Nigerians from the humiliation of foreign governments that say one thing but do another.
Since Geoffrey Onyeama, the Minister of Foreign Affairs, contradicted Abike Dabiri-Erewa, the president's assistant on Diaspora Matters, there have been several reports of Nigerians that have undergone different degrees of shabby humiliation in the hands of American immigration officials. These Nigerians, tourists and business persons, have found themselves for no just reason on the wrong side of America's show of wicked might and yet our government has not deemed it fit to speak out about these cases and ask questions of the American ambassador here in Nigeria. When Dabiri-Erewa advised Nigerians to stay away from America for the time being, Mr. Onyeama was quick to remind Nigerians that only his ministry has the right and power to speak on such matters, urging Nigerians to take every lawful opportunity to visit America. But with mounting evidence that Nigerians are being singled out for offensive treatment on arriving in America, what steps has Mr.  Onyeama taken to show that Nigerians matter?
Are we to believe, as we are likely to be told soon, that diplomatic channels that need not be communicated to Nigerians are being explored to engage the Americans for this inhuman and undiplomatic mistreatment of Nigerians? Why are Nigerian officials too lily-livered when issue turns to responding to the unfair treatment of Nigerians by foreign governments, their officials or citizens? We are always too quick to find mitigating explanations for the unwarranted and insensitive behaviour of others who, it is clear, do what they do because they know they have nothing to fear from us. Where we are not justifying the conduct of these foreign elements against Nigerians we are blaming the Nigerian victims of such outrageous behaviour for conducting themselves in a way that makes them targets of attack. We condemn all for the unacceptable conduct of a few. As victims of South Africa's xenophobia, we blame Nigerians. When faced with hostile business laws in Ghana, we blame Nigerians, and now as victims of an egregious travel ban our government goes silent, perhaps, looking for the best excuse to offer on behalf of America. Why then would Nigerians not be perpetual victims? For what does a government exist if it can't protect her citizens?