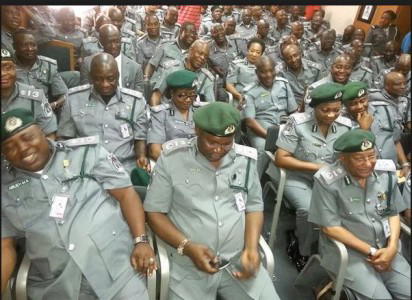 File Photo: Senior Customs officers
The Comptroller-General of Customs, retired Col. Hameed Ali, on Tuesday announced a code number for efficient and effective vehicle duty clearance verification.
Ali disclosed this at a media stakeholders meeting in Abuja.
Ali said that the essence of the meeting was to have a roundtable with stakeholders to come up with  solution to avoid causing hardship to Nigerians in regards to duty payment on old vehicles and verification.
He said that customs had taken further step to ensure that Nigerians, who wanted to verify the authenticity of their customs duty clearance, could do so at the comfort of their homes with the use of their mobile phones.
"For effective and easy customs duty clearance verification, you can dial or send SMS to these numbers 094621597 with your vehicle C-number, the year you paid the duty and the port or location where the vehicle came through into the country.
"Immediately all that information is given, just in five minutes you will get a response whether your vehicle duty clearance is genuine or not,'' Ali said.
He said the essence of the numbers was to ensure stress free verification, to motor dealers and innocent Nigerian vehicle owners.
According to him, for easy traffic flow, the last number which is 7 in the digits 094621597 can be either changed to 8 or 9, to get response faster with different customs personnel on duty at every point in time.
Ali said that Nigerians misunderstood customs intention regarding duty payment on old vehicles, adding that the excise was actually meant for motor dealers.
He added that customs later decided to give innocent private vehicle owners, who after verification, might find out that their vehicles had no genuine duty clearance to take advantage of the 60 per cent rebate.