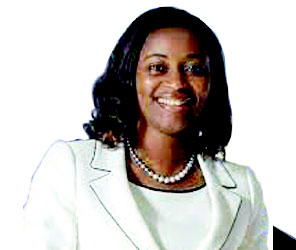 •Folake Ani-Mumuney
Folake Ani-Mumuney, Group Head, Marketing & Corporate Communications, First Bank of Nigeria Limited speaks on efforts of the bank to maintain its brand value and ranking amidst macroeconomic challenges.
IN the past three years, FirstBank maintained a brand value of over $300m, what is the bank doing to maintain this?
We have consistently led in brand value among Nigerian Banks since 2011, moving from a brand value of $170 million to $322 million dollars in 2015. In spite of the global economic headwinds which took its toll on the industry in 2016, we have been able to keep our brand value at over $300m consistently leading our industry in delivering value to our stakeholders.
FirstBank has been in business for over 120 years and has played a very pivotal role in nation building and the development of the national and regional economy through its primary role of financial intermediation, projects financing and employment creation through entrepreneurship support as well as its extensive corporate responsibility and sustainability programmes.
With over 10 million customers and 750 business outlets in Nigeria alone, FirstBank has proven to be the most connected banking brand to a wide array of customers, supporting both SMEs and large corporates across the country and beyond. In sub-Saharan Africa, we have subsidiaries in Ghana, Gambia, Guinea, Sierra Leone, Senegal, and the Democratic Republic of Congo. Our business policy is hinged on a developmental and nation building paradigm.
Our strong footprint across the nation, and increasingly across the continent, enables us impact individuals, businesses, communities, public institutions and governments significantly. All these cumulatively combine to building the FirstBank brand value year on year.
How is FirstBank coping with Nigeria's challenging macroeconomic environment vis-a-vis maintain its competitive edge? 
As a brand that has been in existence for over 120 years, we have always been at the forefront of every development the country has passed through and despite the current economic slowdown we have not relented in our commitment to supporting businesses across sectors and our individual customers in building sustainable business enterprises and advancing in personal financial management. Investments and interventions by our bank, and indeed the Group, in the pivotal sectors were well-thought out and in the right direction.
Besides, despite working with a very lean budget last year, we are still able to maintain the leading position and remain Nigeria's most valuable banking brand as a result of the cumulative assets and the intangible heritage of the brand FirstBank. We are very delighted that our hardwork with innovation and creativity has paid off and been recognized so wonderfully.
There has been an upsurge in CSR related causes in the industry, what the direction of FirstBank in this regard?
FirstBank is keen on Corporate Responsibility and Sustainability and we are committed to positively impacting the lives of our customers, other stakeholders and the society at large in a sustainable manner. We have collaborated with several non-profit organisations to build partnerships that deliver long term value to our society. One of such is the bank's partnership with the Lagos Business School to establish the FirstBank Sustainability Centre, contributing to knowledge in the sustainability sector.
The centre has hosted the International Sustainability Conference to stimulate sustainability principles in business management; Sustainability Workshops for NGOs to create an enabling platform for NGOs in recognition of their emerging roles in contemporary society; and workshops for women-led SMEs to equip women for enterprise development with sustainable growth strategies.
The bank has also partnered with known and recognised names in different sectors of the economy, most importantly in the Arts through our [email protected] platform and this has yielded incredible feedback and goodwill and earned the FirstBank a pride of place among the leading brands in the country. Our partnerships with the British Council and Freedom Park have seen us supporting a large number of arts practitioners and aficionados whilst reviving the culture of family fun time and the business side of the arts.
These initiatives are some of the FirstBank partnerships which certainly contributed in one way or the other in our emergence as a global brand and Nigeria's most valuable bank brand for the sixth year in a row.