By Monsur Olowoopejo
LAGOS— Enugu State Governor, Emeka Ugwuanyi and his Anambra State counterpart, Willie Obiano and the Director, Centre for African Economies at Oxford University, Professor Paul Collier, jointly stressed the need for huge investments in infrastructural development to fast track the nation's economic recovery and achieve liveable cities.
They spoke at the 14th annual lecture of the Centre for Value and Leadership, themed 'living well together, tomorrow: the challenge of Africa's future cities.'' The event also had in  attendance, the Ooni of Ife, Oba Adeyeye Ogunwusi, and others.
Ambode also stressed that the present mode of connectivity within the state wasn't acceptable and befitting for a mega city, and as such a well-structured transportation mode would soon be put in place to address the challenge.
He noted that the standard of infrastructures in the state has improved its status in Sub-Saharan Africa which has exposed it to influx of immigrants, saying 86 immigrants come into Lagos daily and they have no plans to leave.
"This is because Lagos has remained over time and most especially in the last decade, the most attractive destination for those who want to realize and live their Nigerian dream," he said.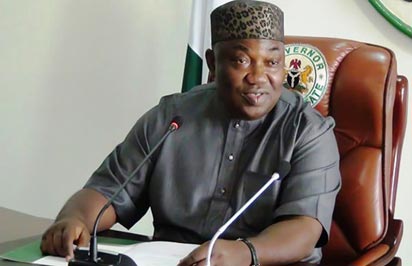 The governor argued that the daily inflow of immigrants challenges the government to be on its toes to provide the facilities and infrastructure to accommodate these new residents.
Earlier, the governors argued that many cities are growing daily making it urgent for the government to be proactive and invest massively in infrastructural development.
For Obiano, who was represented by his deputy, Dr. Nkem Okeke,  the country requires leadership with sincerity of purpose and transparency to drive the desired development.
Obiano said his administration's investments in Agriculture has paid off raising its productivity in rice production from 90,000 metric tons to 230, metric tons annually, adding that the country needed to build more institutions than individuals.
In his lecture, the Director, Center for African Economies at Oxford University, Professor Paul Collier lamented Nigeria's over dependence on oil, saying ,"Nigeria has been cursed by its over dependence on oil for its revenue."
Collier, who called for huge investments in infrastructure and key sectors of the nation's economy noted Nigeria has not been able to solve its problem in the power sector because it has continued to lay so much emphasis on generation, neglecting transmission of the power generated.
He pointed out that the entrench practice in the country whereby people move about in individual cars is not a viable means of transportation, saying it only worsen traffic congestions in modern cities.
Earlier, the founder of Centre for Leadership Value, Prof. Pat Utomi, said the need to inculcate the right leadership values in the younger generation informed the establishment of the Centre for Leadership Value.
Utomi said the centre has concluded plans to build primary schools in Ikorodu, Lagos and Igbuzo , Delta State to offer free qualitative education to indigent pupils from poor homes.