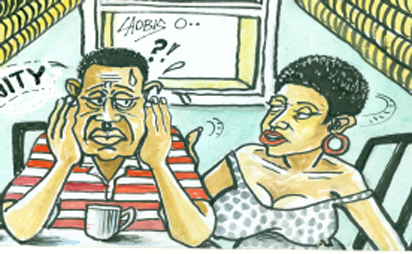 By Bunmi Sofola
AS I bent over Ken, a truncheon in my hand, he looked up at me with a strange sort of longing in his eyes. I kissed him hard on the lips and moved my mouth over his neck and chest. I let him get a good look at me in my American cop uniform before I took off my top and threw it on the floor. I stepped out of my knickers and straddled
him on the bed, kissing him again and stroking his body. And then it happened. I saw him get aroused as I watched. 'Bingo,' I thought, and slipping on protection, he maintained his erection as we had sex. You see George has an intimacy problem. He's in a long-term relationship and madly in love with his girlfriend but he struggles to get an erection during sex. My job is to help him—and other men like him—find their confidence sexually…."
Ashley Grayson is one of a growing number of sexual surrogates all over the world. She is married and what she does is far from prostitution. She continues:"I'm not a prostitute, although I have been called one by people ignorant of my profession. I'm a sex surrogate. I help men with sexual or intimacy problems. I step in for their partner when there's a problem and I coach them through it. I also work with single men who
have sexual anxieties and need help to overcome them. I'm in partnership with a qualified sexual psychologist who holds therapy sessions with clients. There, she will talk to them about their most intimate thoughts, experiences and issues and draw out their insecurities and anxieties. We then work together to devise a 'sexual programme' to help the client overcome his problems.
"And that's where I come in. I work one-on-one with the men over several sessions, sometimes as many as a dozen. We start off very slowly and I usually start by working on eye contact and holding hands. My job is to help the man overcome his problems with intimacy. So he can go back to his partner a confident sexual being. Or, if he's single, he can initiate a sexual relationship and follow through with it, without crippling fear or insecurities stopping him. Sexual therapy of this kind enables the client to discover intimacy as a healing experience, free from the pressures, potential rejection and judgemental attitudes they have experienced in their sexual conditioning.
"The therapeutic relationship is a three-way thing involving the therapist, the client and the surrogate partner. The surrogate partner—that's me—combines psychological training with a genuine desire to help people, together with a deep connection to their own sexuality. Many of the men I see suffer with erectile dysfunction.
These are often young, fit and healthy men who simply can't get an erection. Through hours of therapy, we strip back their issues and insecurities to uncover the root of the problem. Very often, it's an emotional hang-up that's affecting their ability to be adept lovers. It is very rarely a physical issue. Once the problem is established, we move the session from the therapy room to the bedroom and I set about doing my best work.
"After coaching the man on the basics of intimacy, using prolonged eye contact and touching, I use massage and touch therapy to move things to the next level. I teach the men to be in the moment, to be comfortable with their own bodies and become aware of the sensations. We built up mutual trust and over several sessions. Then move onto more sensual work, involving touching each other's genitals. Still in the early stages, this is especially important, and teaches the man how to touch a woman sensually and how to receive pleasure without embarrassment. If they are inexperienced sexually—which many of the men who come to me are—I will teach them the methods to pleasure a woman physically and how to bring her to orgasm.
"We then move on to oral work, which is self explanatory. After that, I like to spend a session discussing sexual fantasies. By now we are doing this in an environment of trust where nothing is off limits." Ashley believes if you can uncover a man's deepest sexual desires, you can unlock the secret to his sexual dysfunction. "By working with the fantasy," he says, "you bring about a sexual awakening in him. Ken's fantasy was to have sex with a cop, wearing full uniform. He had a thing for women in authority and that was what did it for him.
"When moving into the final few sessions, where penetration is the goal, I will often try to incorporate the man's fantasy. For Ken, it was the cop outfit. And it worked. As we lay in bed afterwards, Ken turned towards me. 'Thank you so much,' he said. 'You've really helped me. I really feel like I've overcome something. That's the first time I've been able to have full sex in 18 months.
I've decided to use Ashley's story because there are lots of her in our midst but they don't see what they do as a profession. That's why their 'clients' go back to them again and again, fearing they might not be so successful with their wives or regular partners. There is need to separate the two so the can discuss what they really want in the bedroom with their partners.
"Many people who know what I do for a living don't understand. "It's the same as being a hooker," some of them said. "You have sex for money. It's a financial transaction—you're selling your body. How can you be okay with that'? But they just don't get it. I'm a qualified psychotherapist with a college degree and a smart mind.
My job is to help people. Because of me, the men I work with make better lovers, better boyfriends and better husbands. This in turn, helps them become better people. Many of my clients' wives and girlfriends know they are seeing me and are okay with it, even encouraging it. Working closely with me, their partners will get better in bed. They'll be more fulfilled sexually and, as a result, happier in the long run.
"I enjoy my job and can't deny I get a kick out of helping men overcome their sexual setbacks. I admit I often enjoy the sex. But that is a happy side-effect of my profession, rather than the objective. I have a wonderful, loving husband who is fully aware of my job and supports it wholeheartedly. He is a doctor and understands the psychological aspect of sex and sexuality. I often discuss my clients with him over
dinner. I keep their names anonymous but my husband will come up with suggestions I may not have thought of."
Ashley believes sex surrogacy is a growing industry and is campaigning for it to be taken seriously. "Surrogate partners are extraordinary people, willing to give themselves emotionally and physically to help others," she says. "We need to remove the taboo surrounding sex so we can all reach our sexual potential and live sexually fulfilled lives."
The rise of sex surrogacy 
There are over 30 surrogates currently registered in the United States under the International Professional Surrogates Association. Surrogates must complete a two-week training programme with the society to become registered. They must also work with a licensed sex therapist.
In the UK there is no official association, but sex surrogates do practise, often working closely with traditional therapists and psychologists. It is a very controversial industry and many—including lawyers—still classify sexual surrogates as sex workers.