THERE is no more argument about whether Noodles is an Africa food or not. It has become a staple food in many homes, pethaps, due to the short preparation time. Many stories and rumours had gone round in the past about the unhealthy status of noodles as a meal with many alluding that it has cancer causing agents.
Fortunately, none has been substantiated to date. The more the rumours spread, the more the number of noodles producing companies that spring up.
Noodles have thus, become a quick meal for children and adults alike. If you must eat noodles, I suggest you do so with moderation. Today, Kitchen Africa brings you a more healthy way to prepare your noodles for that healthy diet.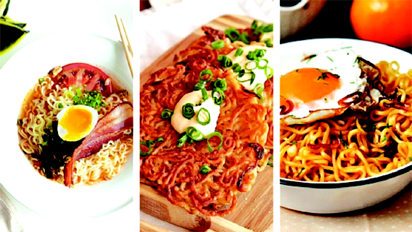 Ingredients
2 packs of noodles
1 bulb of fresh tomato
1 bulb of onion
1stick of carrot
Green peas or beans as desired
Cabbage
Red pepper
1 table spoon of vegetable oil
Egg
Cray fish
Water
RECIPE
Step 1
Pour one cup of water in a clean pot and put on fire. When it boils, open the noodles and pour it inside the boiling water. Cover for 1 minute and pour I
it into a sieve.
Step2
Wash clean and cut or dice you carrot, cabbage, onion, red pepper, tomatoe into a clean bowl. Boil your egg hard
Step 3
Put clean pot or frying pan on fire. Pour one tablespoon of vegetabble oil and heat. Pour the sliced onion, tomatoe, red pepper, carrot, crayfish and stir to fry a little.
Then add your seasoning to taste. Refrain from adding salt as the sesoning already has a lot of concentrated sodium. If you are using your own seasoning, you may leave out the noodles seasoning.
Step 4
Add your noodles and stir. Cover for one minute and turn off the stove.
Step 5
crack and remove the egg and slice.
Step 6
Serve your noodles and garnish with cabbage, sliced egg and the remaining sliced onion and tomatoes. For children who don't like much garnishing, just add egg and if they don't like egg, add mackerel fish or sardine.
Enjoy your meal.