The head of South Sudan's military courts, Colonel Khalid Ono Loki, has resigned, saying high-level interference made it impossible to discipline soldiers accused of rape and murder amid the nation's civil war, according to a letter seen by Reuters on Saturday.
The resignation of  Loki is the third high-level departure in a week. A highly respected general stood down seven days ago, citing ethnic favouritism in the military and rampant human rights abuses. On Friday, the minister of labour defected to the rebels.
Oil-rich South Sudan has been mired in civil war since 2013, when President Salva Kiir, an ethnic Dinka, fired his deputy Riek Machar, an ethnic Nuer.
Since then, fighting has increasingly fractured the world's youngest country along ethnic lines, leading the U.N. to warn that the violence was setting the stage for genocide.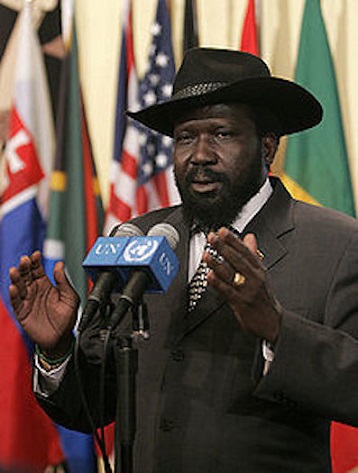 In a letter to the SPLA Chief of army staff, General Paul Malong, Ono Loki, cited   absence of " justice" in the country's judiciary.
Colonel Loki also accused Gen Malong of running  parallel kangaroo courts.
"Mr. Chief [Malong], you have often avoided the current courts, tried officers on your own, whilst, crafting and forming alien ones paradoxical to the existent established courts which are in conformity with the law. Your un-qualified clique of friends and relatives who dangerously arrest and sentence as you so wish and command have never attended any law school to carry such responsibility," Col Loki said.
He also accused Gen Malong and those close to him of releasing convicts at will without following the due process of the law
Loki's resignation buttresses allegations by international rights groups that the government permits soldiers to gang-rape and murder civilians with impunity. The U.N. has documented hundreds of accusations of rape involving soldiers in the capital alone.
Rebels have also been accused of human rights abuses, although fewer cases have been documented.
Military spokesman Brigadier General Lul Ruai Koang said Loki had resigned last year but that it had not been publicised.
"Their defection won't have any negative bearing on the national army," he said. He did not comment on reports of human rights abuses by the military.
The government has previously said soldiers who commit abuses are prosecuted. Officials have not provided any figures or details on such cases.
The rash of resignations will isolate Kiir's government further within the international community and strengthen calls for a regional protection force to patrol the capital and for the military to withdraw.
There are 15,000 U.N. peacekeepers in South Sudan, but they have been criticised for not intervening when human rights abuses are being committed.
The conflict has forced more than 3 million of the nation's 11 million citizens to leave their homes, creating pockets of severe malnutrition. Last year inflation reached over 800 percent.