BY CHARLES KUMOLU
HER name is synonymous with entrepreneurship, having pioneered the Ritalori brand, especially in the hospitality industry.
That is why the next thing that crosses the mind whenever the name is mentioned is the Ritalori Group of Hotels which has profound presence in Lagos and Nigeria's capital, Abuja.
Another aspect of the name that seems to be competing with its entrepreneurship side is social activism.
It is for that reason that some people also visualize activism whenever the name comes up in any discourse.
Adding to the multiple impressions is the perception of some Nigerians to the effect that the person behind the Ritalori brand, Chief Mrs. Rita Lori-Ogbebor, is a politician.
Of the trio of entrepreneurship, activism, and politicking, only the last would be wrong to attribute to her any day, as she is not a politician and has never been.
However, socio-cultural activism comes next to entrepreneurship when describing Lori-Ogbebor, who has shown relentless commitment to the advocacy for good governance and social equality in the Nigerian society.
Being first, an Itsekiri and an indigene of Delta State, makes issues that border on the ethnic nationality very dear to her.  Thus, it would not be dismissible to describe the Itsekiri-a notable ethnic group in Nigeria – as Lori-Ogbebor's first love.
This affection for her roots has seen her embarking on steady "battles" for a better life for the Itsekiri, who are found in three Local Government Areas of Delta State.
While some of her cultural and social advocacies have yielded results, the desire for a better life for natives has remained a tall dream. Hence, her decision to challenge what she considered unfair practices that have resulted in the current state of most Itsekiri communities.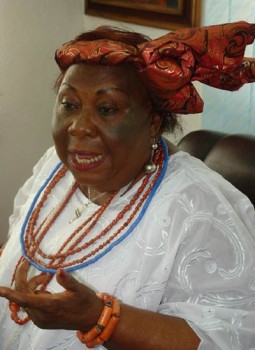 Her anger rests on a tripod of alleged mismanagement of funds, wrongful disbursement and absence of infrastructure befitting an oil producing ethnic group.
What seemed like a corroboration of her grouse is contained in a compendium entitled: 'The Odyssey of Wastage: A Case for Itsekiri Development Master Plan,' which Sunday Vanguard sighted during an interview at her Lagos residence.
The book , prepared by the National Association of Itsekiri Graduates, in commemoration of the first coronation anniversary of the Olu of Warri, chronicled all the projects that had been planned, executed and abandoned in Iwereland, another name for Itsekiriland.
Thus, to bring an end to what she called  arrested development in Itsekiriland, Lori-Ogbebor, who is the Igba of Warri Kingdom, told Sunday Vanguard in an interview that he had dragged the Itsekiri Regional Council and Delta State Oil Producing Areas Development Commission, DESOPADEC, to a Warri High Court and Federal High Court respectively in Delta State over the disbursement and management of community development funds accruable to Itsekiri communities.
Explaining her concerns, she said: ''We have gone to court in prayers. Despite all that had happened in our courts, the criticisms, wrong doings, I still have faith in our courts".
2005 memorandum
She went on: ''In 2005, Chevron multinational company thought it fit to put right some of the problems they have caused in the community following long years of neglect. So, they gathered the ethnic groups in Itsekiri, Ijaw and Isoko areas. They brought them together to form what they called the Global Memorandum of Association, GMA, which was supposed to take care of development in the area. All others registered, but the Itsekiri never did. They went on dealing with Chevron without registration, and they carried on illegally. How can Chevron do business with an illegal body? Who do they represent? Who are they? The Olu of Warri is the head of the Itsekiri people, but he is not even involved. But Chevron kept on with the deal as if they are right. In the eyes of the law, since 2005 till date, we have seen nothing, due to this illegal body.
How they spent money
"This act of illegality was not known in the Itsekiri kingdom, this is a new set of people that has come in the last 16 years. So, today, I have gone to court to bring sanity to my area. If other leaders will pretend as if nothing has happened, I am not going to pretend. Because when things happen like this, they usually develop into huge problems at the end of the day.  I have gone to court to ask Chevron, members of the Itsekiri Regional Council, to tell the Itsekiri how they have spent our money. There is a group that has gone to take inventory of all the jobs done in Itsekiri kingdom by the Itsekiri Regional Council, Chevron, and DESOPADEC.  I have here a book called the Odyssey of Waste. It shows how leaders wasted our money. Today, there are no schools in the rural areas, no hospitals, and there are no jobs in Warri.
''The other reason I have gone to court is DESOPADEC. Everyone knows the fight between myself and ex- Governor Ibori, which lasted about eight years, and ended up at the Supreme Court. At the end of his tenure, he created DESOPADEC for the development of oil producing communities. He established the agency which is against our Constitution.
50 percent of 13 percent derivation
''The 1999 Constitution says 13 percent of our derivation should be for the development of the rural areas in the oil communities feeding the whole nation. But Ibori got the House of Assembly to come out with a bill giving 50 percent of that 13 percent to DESOPADEC for the development of the rural areas. And the bill was silent on the remaining 50 percent. That is why I am in court. I want to know where that 50 percent has gone to. Even the 50 percent that was put aside for DESOPADEC is not even being given to them fully. They do not even get half of the 50 percent. DESOPADEC is just a gathering of people put together and they are being paid monthly so that the government will not be accused of embezzling the money accruable to the rural areas.
"Delta State is the food basket of the nation. When things go wrong there, it will affect everywhere else.I am fighting for my people, I am fighting institutions; without me going to court in the first instance, DESOPADEC would not have been there. It was because of my fight for the good of my people that DESOPADEC was created. I fought because I thought it will be an institution that will bring developments that will create jobs, but it is not so.  I also want them to account for our money. It is meant for the development of rural areas, not to develop individual ventures. Our children have become thugs and kidnappers because there are no jobs. Do you want me to say that the Federal Government has not looked after the Niger Delta? When Buhari came, he did not cancel  the NDDC, DESOPADEC, the Ministry of Niger Delta, and even the Amnesty Programme because people were afraid that he was going to cancel one or two  of them.  And he has encouraged oil companies to come forward to help the communities.
''I will not go to Buhari, I am not asking anything from him for the region. The region should have a development plan because, without it, we would not move forward.
''I come from Delta State, there is no reason  the state should be poor. If we managed our 13 percent derivation, the Memorandum of Understanding, MOU, with different companies, the Niger Delta Development Commission, NDDC, the Ministry of Niger Delta and Amnesty Programme, among others, properly, we will not have had issues with underdevelopment and poverty.
Subscribe for latest Videos