By Onozure Dania
WARRI—PROMINENT Niger Delta activist and Akulagba of Warri Kingdom, Delta State, Chief Ayirimi Emami, has said that he has no issue against the suit by the Igba of Warri Kingdom, Chief Rita Lori-Ogbebor, National Association of Itsekiri Graduates, NAIG and some 'unnamed prominent Itsekiri leaders' against the "Delta State Government, Chevron and himself before the state High Court sitting in Warri."
Emami, in a statement, yesterday, said that he had already contacted his lawyers to do the needful about the suit, adding that it will afford Chevron, operator of the NNPC/Chevron Joint Venture, which is the sole sponsor of Itsekiri Regional Development Committee, IRDC and the Delta State Government, the opportunity to explain the workings of IRDC so as to clear all misconceptions.
According to him, the declaration sought by the plaintiffs for Chevron to provide the approved and executed copy of the Global Memorandum of Understanding, GMoU, will make the world understand that the Community Engagement Management Board, CEMB, Project Review Committee, PRC, and other committees established by Chevron with technical support from the Delta State Government and three Warri local government areas, are saddled with the responsibility of project approval as well as scrutiny.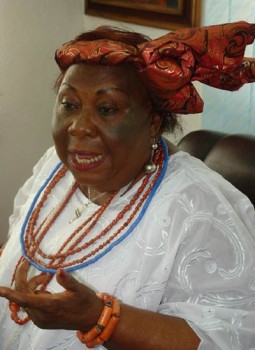 Acknowledging the imperative for the plaintiffs' prayer that the total sum of money paid into the GMoU accounts from 2005 till date, both onshore and offshore be accounted for, Chief Emami said that Chairmen of IRDC from inception are only signatories to approvals, after necessary due process cutting across the CEMB and open bidding process supervised by officials of Delta State Government, NAPIMS, Chevron and representatives of DESOPADEC as well as Warri South, Warri South-West and Warri North Local Government Areas in the CEMB Sub- Committees.
He admonished Chief Lori-Ogbebor and other plaintiffs to equally institute processes that will ensure that houses built by IRDC in the 23 oil and gas bearing communities under its purview are occupied by Itsekiri to save it from the present waste, adding that it will be equally wise for Chief Ogbebor to put the Federal Government and the Ifeanyi Okowa-led Delta State Government to task on how the 13 per cent derivation funds and other statutory allocations have impacted on Itsekiri communities.
"It is not enough to always petition fellow Itsekiri to EFCC in a bid to malign their personalities, but it is also important for Chief Lori-Ogbebor and others to critically address government neglect, project abandonment and illegal occupation of Itsekiri's God given- lands," Emami said.