THE House of Representatives is looking at the fundamentals in the pricing of petrol with a view to ensuring that stakeholders get appropriate value for their money, even as it lauded NIPCO for making products available at regulated rates across the country.
Chairman, House of Reps Ad-hoc Committee on the review of pump price of petrol, Raphael Igbokwe, who stated this during an inspection visit of facilities of NIPCO Plc   in Apapa, Lagos, also said that the citizenry should get products at affordable rates given that Nigeria is an oil producing country.
According to him, "NIPCO is a case study of locally promoted company in the hydrocarbon industry that started from the scratch to become a major player in the sector stressing " we have come to see the magic wand that has made you to have this splendid leap in few years of your operations.''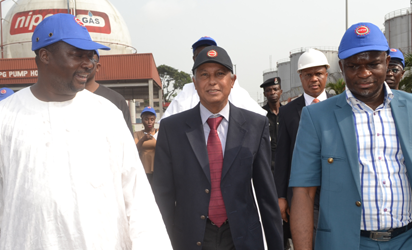 Earlier the Group Managing Director, NIPCO, Mr Venkataraman Venkatapathy, said the visit of the committee members would afford them the opportunity to see the facilities on ground and do an on-the-spot assessment of operations in the industry.
He told the visiting legislators that NIPCO had been in the forefront of harnessing the great potentials of the nation especially in the area of natural gas aside from storage and distribution of white products . Also speaking, NIPCO's Group Executive Director, Corporate Services , Aminu Abdulkadir, said if given the  required support to access the product, Nigerians will get good value for their money.
He said the company hardly does 30 percent of installed capacity which is not good enough but with an improved product access, NIPCO can change the supply equation to filling stations across the country.