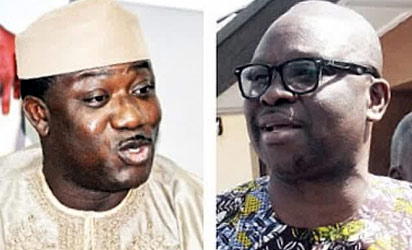 Fayemi and Fayose
By Rotimi Ojomoyela
THE Ekiti State Government will in the next two weeks begin to pay contractors with the State Universal Basic Education Board, SUBEB, owed about N850 million by administration of former Governor Kayode Fayemi.
The contractors were owed the money for jobs done for the board between 2012 and 2013.
This followed a meeting held with the contractors at the Government House, Ado-Ekiti yesterday.
In a statement by the governor's Chief Press Secretary, Mr Idowu Adelusi, the State Governor, Mr Ayodele Fayose, who gave the assurance, said the administration was concerned with the plight of the contractors.
Fayose, who was represented on the occasion by one of aides, Mr Bisi Akinola, said the Fayemi administration caused the problem by  not honouring its obligations to the contractors, but that they would not be made to suffer endlessly.
"In the next few weeks payment shall be made. But before that we will have to verify the work done by each contractor. Those who have completed the jobs 100 percent would be given priority. Those who still have little things to do on site should go and tidy up.
"The last government owed th e money and ran away, but Mr Governor has sourced for money to pay you. Remember that the action of the last administration caused the suspension of the state by the Universal Basic Education Commission from its activities for some years now."
"You have waited enough and it is not going to be fair to keep you waiting and suffering. The governor is taking the step to alleviate your suffering without any political consideration," the governor's representative said.
Akinola said in the first instance about N250 million would be paid out to the contractors, while the verification of other projects would be done too.
Also speaking, the Executive Chairman, Ekiti SUBEB, Senator Bode Ola, lauded the governor's initiative.
The Chairman, SUBEB Contractors, Mr Bankole Adeleye, said the decision of Governor Fayose to pay the debts was commendable.