By Dapo Akinrefon
A FORMER Deputy National Chairman of the People's Democratic Party, PDP, Chief Olabode George has picked holes in the Court of Appeal verdict that authenticated Senator Ali Modu Sheriff as the party's national chairman.
The PDP leader described the judgement as a bad day for the nation's democracy. Addressing newsmen, yesterday in Lagos, Chief George expressed displeasure over the judgement saying "we cannot afford to ride another dark period in the democratic history of the country, it was a bad decision."
He said: "I was shocked, I think the word shock is minimal, it is worse than being shocked. My immediate conclusion is that this is the voice of Jacob and the hands of Esau.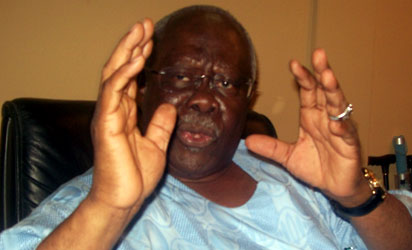 For our National Convention, from what we were told was set aside. The National Convention decision set aside. Well, I leave that to the pundits, political pundits to analyse that, but for whatever it is, it is a very bad day for democracy. It is very sad day.
"The party that was in government, very well established, that is even called most populous political party in the whole of Africa, being decimated, being reduced to Sheriff as the chief manager. He just came to the party, democracy is not about one party-state or one-party man, democracy is about aligning all voices, majority, minority to have a say and I am still very sad. I am not young any more and am still not that old and I expected at this time, the nation would be close to the first line of developed country."
Decrying that there is a grand plan to muzzle the opposition in the country, he said "this is nothing but a complete muzzling of majority decision, we will await the full decision of the court, we would also await the decision of other managers of the party from Abuja, but if nothing can be seen clearly or be decided in positive manner in nearest future, I cannot see myself playing any political role, I don't deceive myself.
My spirit has never been this low as it is today. I am talking personally for myself, whither Nigeria, where do we go from here? A lot of people expected a vibrant opposition, now they have taken the opposition vibrancy to be an appendage to the ruling party. I cry for our beloved country."
It's an all round victory- Sheriff's counsel
Also reacting,counsel to the national executive, which is the appellants in the case, Prince Ajibola Oluyede, has described the ruling as an all round victory for justice and truth.
Oluyede said it is expected that the PDP will take the ruling as a clean slate to rebuild a party that can stand the test of time.
According to him, "Justice Abang of the Federal High Court has been vindicated in his view that the Makarfi led Caretaker Committee is illegal and cannot act on behalf of the PDP.
"Our preliminary objection raised before Liman J. which he rejected has now been upheld by the court of appeal and Liman J.'s judgement set aside in a unanimous decision. One can only hope that the PDP will take this as a clean slate to rebuild a party that can stand the test of time."