By Funmi Ajumobi & Prisca Sam-Duru
A lot has been said concerning the education sector. Many have demanded that government declares a state of emergency or totally overhaul the  system. Many others simply believe that since bad governance has been the bane of the country's development, a positive change in governance  will also bring positive change in the  education sector.
The School Feeding Programme initiated by the Federal Government is good because of the benefits to the children's growth and the attraction it creates for those whose parents are below poverty level and can not afford meals for their kids until they go on street trading; it is also  important that the environment in which these children learn and are served the meal, which do not in any way resemble classroom environment, should be urgently attended to.
In the 70s, schools had no mega buildings but they were well kept and clean. Chalkboards were always black because it was the duty of the students through weekly roaster to keep them clean. Food vendors  always wore royal blue and white apron with white scalf and no vendor could sell food to the students without first sending it to the school head to taste. Schools did not wait till an outbreak of Ebola before they imparted children with good hygiene.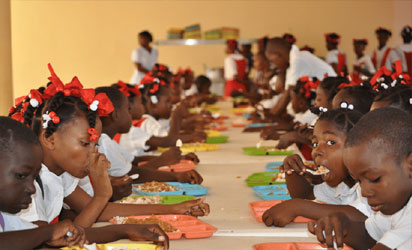 Every child knew the importance of healthy living. Each classroom had on the frontage a bowl of water placed on a wooden or iron stool to wash our hands regularly as we went out to play or used the toilet. Today, every pipe and wash hand basin fixed in schools during the Ebola outbreak has been abandoned because there is no more Ebola.
Before government begins to look for how to get it right on the introduction of free meals for our school children, government should, as a matter of urgency, see to the environment in public schools and fix the leaking roofs and broken windows, buy chairs and tables and smoothen the classroom floors that is so rough it has reduced our children to think that is how primary schools should look like.
All these happen while these children's mates in private schools are being introduced to information technology. Let these public school children also enjoy the basic needs. They will catch up with their mates in private schools if they do not die of diseases at the foundation. After-all, how many of our leaders schooled in mega schools?
It may be surprising to learn that even in this modern age, there are communities in some states of the federation without both primary and secondary schools such that children travel miles to neighbouring communities in order to obtain basic education. And where the schools are available, they are shanties and therefore not conducive for learning.
A visit to some schools across the country showed them as whited-sepulchers. While some look a bit okay on the outside, the inside is unfit for learning. At some schools in Gberigbe, Ikorodu, Lagos, Sunday Vanguard discovered that most of the buildings are uncompleted and work must have stopped for a very long time. The buildings in question are without windows and doors and the floor not concreted.  Students go to school neat but go home as though they swam in dust. Now that the rains are coming, where will these children run to? As if that is not enough, the classrooms are over populated. It was discovered that during lessons, students who kneel down and those who stand while writing outnumbered those sitting down. What does anyone expect from students who pass out of these schools.? Is anyone still pondering why there's mass involvement in examination malpractice? The truth is that the environment does not give these children the chance to learn. They are either distracted by mischievous ones or due also to overpopulation, comprehension is made difficult.
Tolu School Complex, Ajegunle, Lagos typifies this scenario except that the buildings look good on the outside. The authorities are also battling overpopulation with students nearing 200 in a class just like in Gberigbe schools. Many students were also seen kneeling and standing with a few sitting down on the scanty chairs and some others on the tables thereby obstructing the view of others in many of the classrooms while lessons were going on. Filthy water from soak-away makes it difficult for children to go into their schools without having their shoes soiled.
"I'm telling you that we have classes where students are more than 150 as against 30 at most", a  a teacher at the Newland Senior Secondary School told Sunday Vanguard. An observation of happenings during lesson periods proved her claim to be true. Some classrooms were packed full with students. In a particular class, while a male teacher was busy writing on the blackboard, some ABBs (Association of Back Benchers ), although students in this group in this class were standing, were busy writing notes and either secretly passing them to female students or throwing them at the girls.
Some teachers at Gberigbe Junior Grammar School, who spoke on the grounds of anonymity, cried out to government to come to their aid. " We now have over 150 students in a class. We were so many last term because so many parents withdrew their children from private schools and transferred them to public schools, due to the hardship in the country. We are surprised that while we complained about the difficulty we encountered trying to control the situation last term, more students joined us this term".
"Take a look at our buildings, they are nothing to write home about. Help us beg the government. They should give us  more structures and also complete the ones they have started. They should also stop bringing in more children. The environment is no longer conducive for  learning."
Another startling revelation about what happens in public schools is a student's revelation of how, sometimes,  students spend what should have been lesson periods, working on their teachers' farmlands. No wonder the standard of education keeps getting worse by the day.
As things get difficult due to economic recession, drift from private to public schools is to be expected. A government who holds education in a high esteem will think about building additional schools and rehabilitating the existing ones.