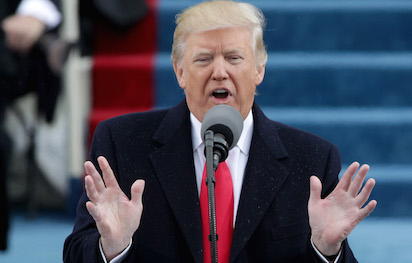 US President, Donald Trump
President Donald Trump complained on Wednesday that arguments against his attempt to limit immigration and refugee arrivals in the United States were "disgraceful'' even as a federal appeals court weighed the president's halted executive order.
The appeals court in San Francisco says it will decide "as soon as possible'' whether to reinstate Trump's executive order barring people from seven Muslim-majority countries from entering the U.S.
Lawyers for the U.S. Justice Department and for two states opposed to the order made their cases late Tuesday to the Ninth Circuit Court of Appeals in San Francisco, which was deciding whether to uphold a lower court's temporary halt to the order.
Speaking to a meeting in Washington of local police officials from across the country, Trump complained that lawyers in the hearing, which, unusually, was streamed live by the court due to widespread public interest, "were talking about things that had just nothing to do with'' the executive order.
"It is so sad, I listened to a bunch of stuff last night on television that was disgraceful,'' he said. Trump insisted that the Jan. 27 executive order "just can't be written any plainer or better''.
He said the judicial intervention was imperiling national security. "I think it's a sad day.
"I think our security is at risk today and it will be at risk until such time as we are entitled and get what we are entitled to as citizens of this country.
"We want security, one of the reasons I was elected was because of law and order and security,'' Trump said.