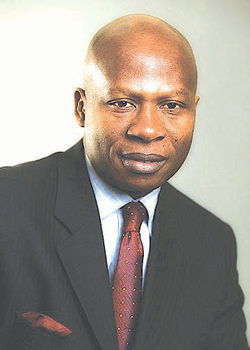 •Mgbeoji
•Mgbeoji, state Commissioner for Education
By Levinus Nwabughiogu
Between May 2015 and now, Abia State Polytechnic, Aba, has had three Acting Rectors. Similarly, there has been series of industrial strike actions by the staff of the institution.  The issue, which triggered a face-off between the government and the management of the school, stems from unpaid salary arrears of seven months.  Only last week, Governor Okezie Ikpeazu sacked the third Acting Rector, Acting Registrar and the Governing Council members of polytechnic in a sweeping move. In these separate interviews, the state Commissioner for Education, Ikechi Mgbeoji, a professor of law, and the  Chairman, Senior Staff Association of Polytechnics, SSAP, of the polytechnic, Nwachukwu Chuks, tell their stories.
 Why polytechnic must be overhauled — Mgbeoji
Differences in educational systemI was in Canada for over 20 years. My experiences there as a professor and what I see there and how things are done are a lot different from the ways things are done in Nigeria's tertiary institutions. I am giving this background so that, maybe, others can learn from it.
Since the British institutionalized tertiary institutions in Nigeria, starting from Yaba College of Technology to University College in Ibadan, in the early 50s, the structure of governance in tertiary institutions has not changed much. So, we have a system in which whoever is the Rector or Vice Chancellor is almost a demigod in the school.
We don't have checks and balances in terms of how they exercise power. Abroad, it is the student that is almost the king. Everything they do in schools there is focused on students. The student is front, center and back. Even when it comes to the hiring of somebody as teacher in the university or polytechnic abroad, the students are part of what is called Hiring Committee.
Salary impasse
They make it sound as if it is government that pays their salary. It is not government  because tertiary institution in Nigeria, most of them actually, operate on the principle of Collect and Use. You collect revenue from students, you use. They don't remit money to government and, by law, a tertiary institution is a semi autonomous institution.
Government does not look into their money. Government does not collect their money. They collect revenue from students  by way of tuition, levies and so on and so forth. What they charge students, government has no say whatsoever. What government does in many places is to subvent. Subvention is like an allowance that government gives and it is not a compulsory allowance in that sense. It is totally a discretionary gift that government gives to institutions to help them run their affairs.
How tertiary institutions should work
So what that means is that a semi-institution is a semi-autonomous body. Those who work there are not classical civil servant. A person who works at at the ministry of works or whatever is different from somebody who lectures in a polytechnic, their conditions of service are different.
Government regulates that of the civil servants whereas in the polytechnic or university, they collect  revenue through fees, keep and use money as they deem it. In Abia State Polytechnic, the real problem  is that, over the years, their Rectors have been acting like typical Nigerian Rector that is grossly irresponsible. They collect their money and waste the money. The profligacy there is unprecedented.
They wasted millions of Naira
Let me give you an example,   their Council, there was a mistake the first one made. So what that means is that a tertiary institution is a fairly autonomous body. The Council Chamber is 20 feet by 12 long. They spent N2.4 million to renovate that room. Eight months later, they spent about N30 million, that same room again.
They documents are there. They spent N116 million to clear. The contract was awarded to the Chairman, and the contract was awarded at a time when the company  hadn't been duly registered by CAC. Abia Polytechnic his 95 men at their gate. They are pensionable workers. They have over 10 medical doctors there. Meanwhile, nobody lives inside the school.
Students live outside. Each of the doctors there is on about N400,000 plus salary every month. Abia Polytechnic has about 42 workers in their bookstore and the bookstore is almost empty. Two of them are on salary of over N400,000 every month. The school has a Director of Sports. The woman is over 65 years old and she is still working.
Abia Polytechnic has over 1,000 non-tutorial staff. I have the whole panel report. I can go on and on. So, these people sat down there. They didn't go on strike when these things were going on. It was a real racket going on there.
Govt should pay us our seven months salary arrears now —Nwachuwku Chuks, Chairman, Senior Staff Association of Polytechnics, Abia State
The bottom line is unpaid salaries for seven months and the workers became agitated and said 'how can we be working for 12 calendar months without salary?'  In August last year, we embarked on  industrial action over unpaid salary. By that time, we had eight months unpaid salary. Six months into the strike, they managed to pay two months arrears and asked us to come back with a promise that they were going to pay.
At that time, our students had not written their second semester exams. They said that some students were still owing school fees and if we suspended the strike to enable students return and write the examination, they will be able to recover some money from the students and, with that, pay us. We obliged them, suspended the strike and conducted the exams.
But after that, no salary was paid to to the staff. The union check off dues for one year (the three unions) were not paid either. Our cooperative funds which they deduct at source from staff salary, as I am talking to you, the cooperative is being owed over N150 million (un)remitted deductions made by the management.