A member of the Ekiti House of Assembly, Mr Gboyega Aridisogan (PDP), said President Buhari's re-submission of Ibrahim Magu's name to the Senate for confirmation as EFCC Chairman was an indication that he had recognised his track record.
Gboyega said this on Thursday during an interview in Abuja.
He, therefore, urged the Senate to critically examine the provisions guiding appointments and nominations in the Act establishing the EFCC before confirming Magu.
However, Tunde Aremu, Action Aid, Policy and Campaign Manager, wondered why it took the Department of State Services (DSS) this long to reveal the information on Magu.
Aremu said such a report by the DSS exposing the alleged sabotage, double life and corruption against the acting chairman of the anti-graft agency had created room for suspicion.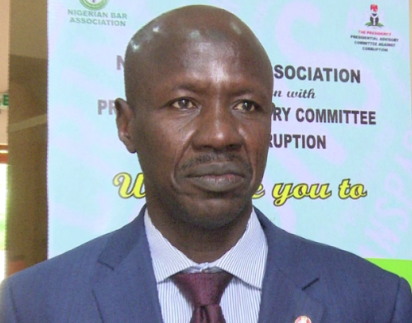 "There is something wrong with the system that has critical information about somebody for such position and the system never made it available or queried his conduct.
"This is an agency that is empowered to arrest and if Magu has skeleton in his cupboard why has the agency not apprehended him all this while.
He, however, said that the law was very clear on how long an individual could stay in an acting capacity, and that if the Senate eventually refused to confirm him, the President should nominate another person.
Meanwhile, some staff of the EFCC said that the non-confirmation of Magu as the commission's Chairman had not hampered the organisation's operations "in any way''.
They spoke on condition of anonymity that the commission was operating strictly in accordance with the laid-down procedures, adding that extraneous issues such as Magu's non-confirmation could not hamper its operations.
The workers said the decision of President Muhammadu Buhari to re-submit the name of Magu to the Senate for confirmation had rekindled their hope.
"Don't forget that the President is a man of honour and he must have investigated the issues raised by the DSS before re-submitting his name.
Another staff of the commission said that the ag. chairman had instilled discipline in the workforce since he became the acting head of the agency, while showing much integrity and commitment.
He said that his feat in the struggle to eradicate corruption had reawakened the commitment of the staff.