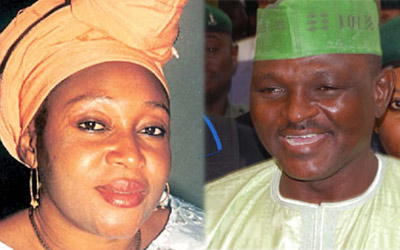 Late Kudirat Abiola and Al-Mustapha
By Ishola Balogun
Youths under the umbrella of the Arewa Youth Consultative Forum (AYCF), have nothing against the Lagos State  Government plans   to contest the verdict of the Appeal Court that set former Chief Security Officer (CSO) to the late Head of State, General Sani Abacha, Major Hamza Al-Mustapha (retd) free after he had   earlier been convicted for   alleged involvement in the murder of Alhaja Kudirat Abiola in Lagos.
Kudirat Abiola who was the wife of the late MKO Abiola, the acclaimed winner of the June 1993 presidential election that was annulled by the then Military President, Ibrahim Babangida; was gunned down in Lagos during   the agitation to re-validate her husband's mandate.
The trial that lasted about 15 year saw Al-Mustapha convicted for murder before he was set free and acquitted by an Appeal Court.
Not satisfied, Lagos government approached the Supreme Court to revisit the Appeal Court verdict which the Apex court granted on last week.
The Arewa youth, in a statement signed by their National President, Alhaji Yerima Usman Shettima said "the outcome of Lagos appeal will settle the matter once and for all," saying that, "as the case stands now, the fate of the accused still hangs in the balance."
According to him, the final verdict would put the minds of all parties involved at rest for them to move on, having seen that justice has been done properly. However, the group warned those influencing some sections of the media to misrepresent the pronouncement of the honourable courts to desist from doing so, complaining that the tones of some media platforms have given cause for concern.
The Forum also accused some unnamed northern elites who he alleged were collaborating with their southern counterparts to malign a party to the case with a view to keeping him out of circulation permanently for no just cause.
"If they continue with their diabolic tactics, the time to expose them is now, " AYCF warned, saying, "we are keenly watching body movement of individuals and groups of people who might attempt to pervert the cause of justice."
The statement further stated that the Nigerian people now have utmost confidence in the Judiciary adding that, "we at the AYCF also hope that justice will be properly done at the end of the day."