By AbdulSalam Muhammad
KANO—Governor Abdullahi Ganduje of Kano State, yesterday, assured the peoples of the states that their commonwealth was in safe hand.
He said: "I have made a covenant with God to be upright in handling our commonwealth and that I will do all I can to restore the dignity and integrity of this state by using your treasury judiciously."
Governor Ganduje, who laid the foundation for the construction of 4,126 shops for textile traders at the cost of over N5 billion, noted that the era of misusing of peoples funds is over.
Ganduje further assured: "I promised that in my four years tenure, I will not steal or divert Kano's treasury, but will use the money for the growth of the ancient city."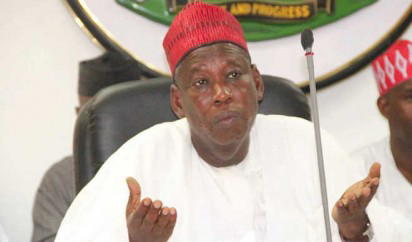 The new shops, which were steps to check incessant fire outbreak at Kano textile market, will be linked with nine access roads that would cost N917 million.
Under the proposed plan, about 336 shops have been awarded at N801 million, while another 280 shops have also been awarded at N667 million.
Governor Ganduje explained that the four major markets in the state, comprising Kurmi, Kwari Textile Market, Yanlemo and Dawanau markets, are going to receive government attention.
Speaking at the event, the Emir of Kano, Muhammadu Sanusi II, urged Kano people not to relent in protecting the state against hoodlums and suspected persons.
He tasked Kano indigenes to stop the usual blame games and engage in things that would improve their economic values.