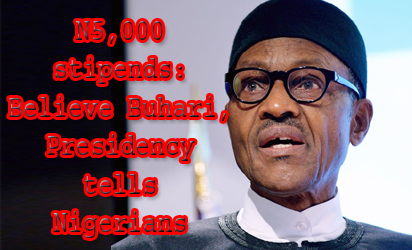 President Buhari
THE Federal Government on Friday, December 30, 2016, began the first phase disbursement of its promised N5,000 monthly stipends to the poorest and most vulnerable Nigerians. The pilot scheme which took off in nine States across the country is being paid to one million Nigerians out of the 25 million expected beneficiaries.  The payment which had twice been postponed due to paucity of funds was one of the Presidential campaign promises of the ruling All Progressives Congress (APC) in 2015. The payment is part of the administration's four Social Intervention Programmes (SIP) which included N-Power scheme beneficiaries receiving monthly N30,000 stipend and Micro-Credit scheme for about 1.2 million others in the category.
Through a Conditional Cash Transfer (CCT) arrangement, the initial one million Nigerians will receive the N5,000 monthly payment as a form of social safety net for the poorest and most vulnerable, according to a statement by Senior Special Assistant on Media and Publicity to the Vice-President, Laolu Akande. Funds for the stipends were provided in the 2016 budget. The take-off funds for four out of the nine States in the first batch were released to the Nigeria Inter-Bank Settlement System (NIBSS) the platform that validates payments for all government's social intervention programmes.
Funds for the remaining five States is expected to be made available soon. The nine States Borno, Kwara, Bauchi, Cross River, Niger, Kogi, Oyo, Ogun and Ekiti are selected because they have existing Social Register of the poorest and most vulnerable.
Controversy had trailed the N5,000 campaign promise after President Muhammadu Buhari assumed office. In November 2015, senators kicked against the idea as they refused to pass a resolution that would compel the Federal Government to fulfill the promise. Early last year, while visiting the Middle East, President Buhari recanted on the issue. He would rather use the money to develop infrastructures and empower the people than pay N5,000 to unemployed graduates. The Presidency also clarified that Buhari never made such a commitment.
It is quite commendable that the administration has deemed it fit to redeem the electoral promise especially at a time when the nation is in the grip of economic depression. There is, however, the daunting challenge of ensuring that the stipends get to the intended beneficiaries and not proxies of political influence mongers. The process of payment should not be hijacked by party leaders who may use it as a bait to achieve selfish political end capable of derailing the scheme's objective.
We call on President Buhari and Vice-President Yemi Osinbajo whose office is overseeing the palliative measure to ensure that funds for other states are released on time and make it a sustainable effort. If well managed, the scheme will go a long way in alleviating the financial hardship of the poorest and most vulnerable.