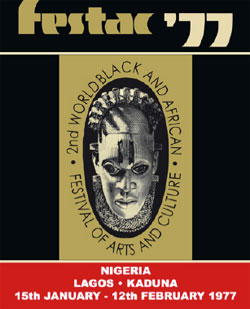 FESTAC 77
NO less than 45 African countries have indicated their interest to participate in the forthcoming celebration of Festac77 @ 40 that would start on April 1 across the country.
Dr. Ferdinand Anikwe, the Director-General, Centre for Black Arts and Africa Civilization, CBAAC, disclosed this to the News Agency of Nigeria in Lagos. Anikwe said that Japan, Canada, the United States of America, China and other developed countries outside Africa have also shown interests in participating.
NAN reports that Festac 77, also known as the Second World Black and African Festival of Arts and Culture, was held in Lagos from January15, 1977 to February 12, 1977and 59 countries participated. The month-long event celebrated African culture and showcased to the world African music, fine art, literature, drama, dance and religion.
Several countries showcased their artworks at the National Theatre, the Nigerian National Museum and some places around Tafawa Balewa Square (TBS), at the time. According to Anikwe, activities marking the celebration will hold simultaneously in no less than 10 states including the Federal Capital Territory (Abuja) where one of the anniversary's mascots will be unveiled on April 1, 2017.
"The anniversary's mascots will be unveiled simultaneously on April 1 in Abuja, Abeokuta and Addis-Ababa in Ethiopia.
Masquerade festivals
"That of Abuja will take place at the International Conference Centre, which is the opening ceremony," he disclosed.
He said that the event would kick off on April 1 to end in December, adding that different cultural displays would be held in some states: Katsina, Enugu, Ogun, Kaduna, Akwa Ibom and more.
" We are going to have a durbar display in Katsina, there will be masquerade festivals in Enugu and the rolling out of 40 drums in Abeokuta, which is the symbol of Festac 77. All ethnic chanters will be on ground and there will be recitation of poems, staging of plays, and the singing of indigenous songs. This celebration will coincide with former President Olusegun Obasanjo's 80th birthday anniversary that is why Abeokuta is playing a leading role," he said.
Anikwe said that CBAAC had ben sensitising hotel operators across the cities where the events would hold to upgrade their facilities.
They should also ensure that during the celebration, their charges should be affordable for local and international tourists and we have gained their consent, he said.
Anikwe said that the organisation had involved all the security agencies to ensure utmost security of lives and properties during the period.
He added that CBAAC had designed uniforms for the security agencies which they would adorn for easy identification by officials, tourists and visitors.
There would also be uniforms for children, artists and organizers made from Nigerian indigenous fabrics as part of the efforts promoting the made-in-Nigeria fabrics.
The D-G said that the event was going to be one of the most spectacular cultural events in the history of the country as participants would be transported from designated airports to their choice destinations.
"There are plans for international tourists to be transported from the airports to their desired destinations during the celebrations because there will be activities in all parts of the country. I am so glad to be among those that are planning for Festac77 at 40 because in 1977 was when I wrote the West African School Certificate Examinations (WASCE).  I can't forget that in a hurry," Anikwe said.