By Candida
I have always eagerly looked forward to Christmas. Not  for what I can get out of it, but for the juiciest events I usually find myself smack in the middle of. Take the last Christmas eve, for instance. Every year, we usually have a low budget annual party for the current participating group at the regular courses I co-run with a 'partner'. Last year, we decided to splash out a bit and shifted base to a club-house down the street – a bit cheesy, but after the ingenious decoration by some of the ladies, the air was filled with the spirit of Christmas.
When I sauntered in around 4p.m, the club looked really festive – the atmosphere was thick with perfume and after-shave. The deejay was beside himself with excitement wriggling to the music he dished out as everyone sang along. The ladies who couldn't get home in time to come back had brought a change of clothing, emerging from the loo with fancy hair dos and glittering tops. Then, I spotted Sule – the classroom nerd. A very intelligent IT expert, his thick lack-Iuster glasses matched his quiet mien.
He didn't speak a word of Yoruba and the ladies who did, heck-led him mercilessly. It was obvious he had the hots for Linda, a lively divorcee who constantly thumbed her nose at Sule's offer of a night out. As she joked about his clothes to her friends, Sule would go. "What are you saying"? "Oh, we were just saying how incredibly intelligent you are!"
Linda would often assure.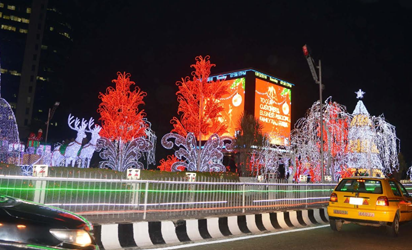 Anyway, there was Sule at a corner, nursing a glass of what looked like red wine at the party. The others were a bit woozy as they guzzled the free booze. Spotting Sule, Linda went up to him, obviously urged on by her friends, and plunked herself on a seat opposite him. I watched, amused, as he looked at her warily. "Have a top up," Linda sniggered, filling his glass to the brim. He tried to protest, but Linda took a big gulp from his glass and that sort of did the trick. As he tried to match Linda drink for drink, the booze went to his head. He was now dancing in his chair and Linda left to dance with a few other guests.
In a flash, Sule was on the dance floor and was gyrating with Linda. She was stunned. So was I. The nerd had suddenly metamorphosed into an aggressive master! The girls were in hysterics as they teased him endlessly.
Then, he stopped dancing, shook his head and asked the girls in flawless Yoruba: "You think I am Suegbe, don't you? Well, I'm not, I'm pako!" On and on he went as most of the ladies gasped. Linda looked really uncomfortable, obviously imagining all the put down she'd thought Sule
knew nothing of. But, it was the season of goodwill and Sule was soon back on the dance floor, a different man entirely. He even bumped and grounded with some of the girls.
Shortly after, it was obvious Linda had had one drink too many. Just before midnight, she must have been overcome by a huge wave of nausea and tried desperately to get to the loo but it was too late. She threw up near the loo and quite a number of guests recoiled in horror as the stench of vomit became almost overwhelming. Who should come to Linda's rescue but Sule? He got the club management to clean up the mess and casually asked Linda if he could take her home. She agreed gratefully. I was bemused.
Who could have imagined anything like this happening between those two?
I didn't see the two of them until after the New Year. Sule was his serious self, but with new confidence. No more teasing. Everyone now knew he could understand all those nasty put-downs. Linda was the one subdued.
A few days later, we had an opportunity of a gossip. "1 hope Sule didn't run you into a ditch – he looked quite drunk at the party?" Linda shook her
head. "That man would excel as an actor," she said admiringly. "He took me home, made sure I got really cleaned up and before I knew what hit me, he'd clamped his lips to mine in what he termed his 'killer' kiss. I was frozen with shock. I wanted to push him off, but he was such a smashing kisser. As excitement shot through me, I wondered who this man was!
"I want you", he suddenly growled, running his hands all over me. He completely took over, nudging me to the bedroom and kicking the door shut! My goodness, I thought. I was in between boy-friends and my two kids were spending Christmas with my sister. What a stroke of good fortune!
He was incredible in bed. Like a prisoner released after years of incarceration. By the next morning, he had left. As the memories of all that happened came back, I groaned, I had actually slept with Sule. I never imagined I could ever even allow him to hold my hand let a alone sleep with him. But, no regrets at all, he was one of the best! We more or less spent the rest of the holiday together and the sex got better and better. He is married but doesn't bother me. When we resumed the course and the gossip about him continued, I didn't chip in. Instead, it was Sule giving as  much as he got and winking at me conspiratorilly. Would these people ever believe that the class nerd is a stallion?
Which goes to show you don't judge a product by its wrapping. Christmas has a way of weaving its magic but in the most unexpected way. You might think it would be a dull one this year only to find Linda's type of surprise.