By Donu Kogbara
Active APC and PDP supporters will soon  face each other in yet another electoral re–run in my home state, Rivers. I have spoken to several Riverians – non-politicians – about this upcoming battle, which has been scheduled for December 10th; and they are all extremely worried because violence has marred previous polls and the widespread assumption is that violence will rear its ugly head again next weekend.
Some politicians have no taste for blood and cannot be accused of committing murder, sponsoring murder or turning a blind eye to murders that have been committed by others. But there are too many psychopathic desperados on the Nigerian political stage; and it's futile to beg dangerous homicidal individuals who have no consciences to stop regarding elections as do-or-die matters.
Robust law enforcement is the only thing that can stop these vote-stealing criminals; and it's a great shame that the policing of elections has never been adequate…and that the police are even sometimes accused of colluding with politicians who will go to any length to subvert democratic processes.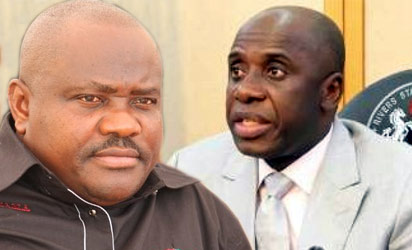 And, by the way, I don't understand why the re-run is taking place so close to Christmas. Talk about ruining the Festive Yuletide Season for decent citizens!
And, by the way, I pray that Governor Nyesom Wike and his predecessor and former friend, Transport Minister Rotimi Amaechi, will one day patch up their quarrel. Our state will be much better off if this painful rift ends.
A TOUCHING DITTY
I recently came across a song titled "WE ARE AUSTRALIAN". It's a patriotic song that was written in 1987 by  2 musicians –  Bruce Woodley  and Dobe Newton.
Its lyrics (see below) are filled with many historical and cultural references that I had to Google, so I could educate myself (Vanguard readers should do the same if they want to fully understand it). And it's so popular in Australia that it is taught in primary schools and regarded by many as an alternative to the national anthem.
The first verse refers to the long-suffering black Aborigines, the real owners of the land and the first-ever Australians.
Subsequent verses refer to settlers, including the first wave of immigrants, white convicts – between 1788 and 1868, 164,000 prisoners were transported in 806 ships from Britain to Australia, which became a British colony in 1770, because the British authorities wanted to populate and build their new "possession." And many (law-abiding and respectable!) modern Australians are the convicts' descendants.
I found the verses about the struggles that these Australians went through to establish themselves and their nation in an inhospitable terrain strangely touching; and the song's unvarnished and eloquent honesty moved me to tears.
Woodley and Newton didn't pretend that the ancestors of many of today's Australians were saints or heroes. They tell it like it is and also admit that their forefathers basically invaded territories that didn't belong to them.
I keep trying to imagine how our Aboriginal brethren must have felt when they saw the tall ships advancing. Were they frightened or puzzled or angry or all of the above? I also keep imagining how badly the rough convicts must have treated them.
And it's not as if their suffering is over. Many Aborigines still go through hell. I recall reading somewhere that as recently as 1964, they were being hunted for sport in Tasmania by white thugs who clearly didn't view them as fellow humans.
Anyway, the chorus of "We Are Australian" is all about unity and idealism, which some modern Australians aspire to and nationals of every country should aspire to.
The Nigerian national anthems (we've had 2 – "Nigeria We Hail Thee" and "Arise O Compatriots") are also pretty impressive. I feel very emotional whenever I sing the current national anthem and I felt very emotional whenever I sang the old one.
We should all think seriously about the words because things are not going well in our motherland; and we can only have brighter tomorrows if we keep remembering the stirring lyrics of our national anthem and sincerely act on them. Together.
Never forget that even the most well-intentioned or talented President or Governor will not make sufficient progress if the rest of us do not do our bit.
We are Australian
I came from the  Dreamtime
From the dusty red soil plains
I am the ancient heart
The keeper of the flame
I stood upon the rocky shore
I watched  the tall ships  come
For forty thousand years I've been the first Australian
CHORUS
We are one
But we are many
And from all the lands on earth we come
We'll share a dream
And sing with one voice
I am, you are, we are Australian
I came upon the prison ships
Bound down by iron chains
I fought the land
Endured the lash
And waited for the rains
I'm a settler
I'm a farmer's wife
On a dry and barren run
A convict then a free man
I became Australian
CHORUS
I'm a daughter of a digger
Who sought the mother lode
The girl became a woman
On the long and dusty road
I'm a child of the Depression
I saw the good time come
I'm a bushy, I'm a battler
I am Australian
CHORUS
I'm a teller of stories
I'm a singer of songs
I am Albert Namatjira
And I paint the ghostly gums
I'm  Clancy on his horse
I'm Ned Kelly on the run
I'm the one who  waltzed Matilda
I am Australian
CHORUS
I'm the hot wind from the desert
I'm the black soil of the plains
I'm the mountains and the valleys
I'm the drought and flooding rains
I am the rock
I am the sky
The rivers when they run
The spirit of this great land
I am Australian
CHORUS
Try to access it via YouTube if you want to hear the melody, which I also love.