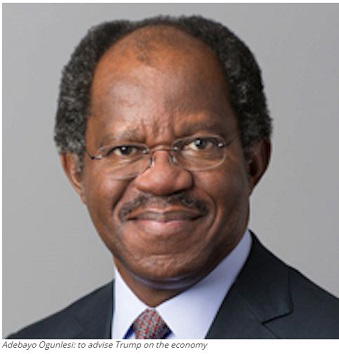 Adebayo Ogunlesi: to advise Trump on the economy
New York – The Nigerian community in U.S. has lauded the appointment of Bayo Ogunlesi by U.S. President-elect Donald Trump into his Economic Advisory Team, saying it could signal a positive trend for Africa.
The Nigerians told the Correspondent of the News Agency of Nigeria (NAN) in New York, that Ogunlesi has been an excellent ambassador for Africa and Nigeria in particular.
Mr Michael Adeniyi, former President of a Nigerian U.S.-based group, the Organisation for the Advancement of Nigerians Inc. (OAN Inc), told NAN that "Bayo Ogunlesi is an excellent and extraordinary Nigerian.
"He is very humble, brilliant and outstanding in every way you can think of.
"He has achieved outstanding success in Wall Street and he's a proud ambassador of Africa, which he started in Kings College.
"For him to be appointed into Trump's Economic Advisory Team is a honour to Africa and especially to Nigeria. He will add value to the Trump's team and he's worthy of celebrating.
"Prior to his appointment, Bayo Ogunlesi has been a pride of Africa; he reached the pinnacle of his career in Walls Street through his company which he built from the scratch. He is a round peg in a round hole."
Another Nigerian, Prof. Yetunde Odugbesan-Omede, a professor of Global Affairs and Political Science, at Rutgers University and Farmingdale State College, said Ogunlesi has all it takes to contribute to a positive American economic outlook
"Mr Ogunlesi has an impressive background and will be able to add his perspective and vast knowledge on how to move America forward that will yield positive economic outcomes."
Odugbesan-Omede, however, said it was too early to say if the appointment would have any impact on Nigeria.
"It is too early to determine or come to a conclusion at this moment on whether Mr Ogunlesi's role will have any impact on Nigeria's foreign and economic policy.
"I hope that Mr Ogunlesi will provide guidance on improving both economic and political U.S.-Nigeria relations," Odugbesan-Omede said.
Spokesperson for the Permanent Mission of Nigeria to the UN, Pastor Akinremi Bolaji, said Ogunlesi's appointment was a positive development for Nigeria and Africa.
"I am not speaking for the Nigerian diplomatic community because I am not in the position to do so; it for the Embassy in Washington to do.
"Speaking as a Nigerian, it is a good indication and positive development for Africa and Nigeria that we are among the best brains everywhere.
"It is also to show you that one in every five Blacks is a Nigerian. It is a good indication for our economic and foreign policy.
"It also shows that Africa and Nigeria have good ambassadors everywhere. Ogunlesi has to see himself as a representative of the Black race as the only Black man that made the list by further distinguishing himself.
"I advise him to use his opportunity well and he should bring together people of integrity who will not smear his integrity."
Bolaji said the younger generation has a lot to learn from his distinction, adding "journalists have a lot to do to tell us how he was able to weather the storm and got recognised worldwide.
"It also shows that the best economic brains are scattered everywhere in Nigeria. We have the Dangotes in the North, Jim Ovias and Tony Elumelus in the East and South South and Otedola in the West, and now Ogunlesi.
"If we put our house together, we have people all over the world and at home who have all it takes for us to succeed," Bolaji said.
Ogunlesi, who is the chairman of Global Infrastructure Partners, a private equity firm and one of Fortune 500 companies, was named a member of an economic advisory forum to Trump.
The 63-year-old Nigerian is the only African face in the 16-man team.
"President-elect Donald J. Trump today announced that he is establishing the President's Strategic and Policy Forum," said a press release from Blackstone published by Business Insider.
The Forum, which is composed of some of America's most highly respected and successful business leaders, will be called upon to meet with the president frequently to share their specific experience and knowledge as the president implements his plan to bring back jobs and 'Make America Great Again'.