Chief Edwin Kiagbodo Clark, 88, lawyer, former Federal Commissioner for Information and senator, in this interview, speaks on several issues afflicting the Niger Delta area and proffers the way forward. Excerpts:
By Omeiza Ajayi
You have been around in Nigerian politics for quite a long time. What is the secret?
I don't pretend. I believe in saying it as it is, as it will be or as it is supposed to be if I know the right answer. I believe if you maintain and believe in yourself, you would remain relevant at all times. You do not change for changing sake,  not following from one government to the other…Government would come, government would go.
I left the United Kingdom in 1965 having qualified as an English barrister, then attended a three-month course at the Law School in Igbosere. Thereafter, I practised in Warri. I was one of the youngest lawyers, but at the same time, I was the first secretary of the Nigeria Bar Association NBA, Warri Branch with Justice Ogbobinne as the chairman. Dr. Mudiaga-Odje took over from me.
At that time, we had very important lawyers as members because that was a very important branch. So, I am saying that once you remain how you are, what you are and you do not shift from one angle to the other just because of the personalities involved, you would remain relevant.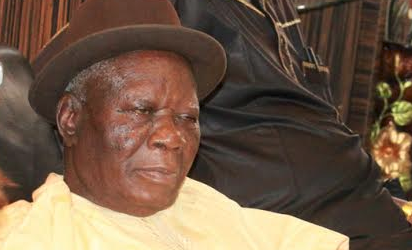 In 1968, I became the Commissioner for Education in the Mid-West, and that was the position I held until 1971 when I was posted to Finance and Establishment as the commissioner. During my time in Education Ministry, I made a lot of changes, and I did a lot of things which I believe were my original ideas. For instance, when people talk about examination malpractices, I remember my approach was practical.
When we were told that students of Teachers Training College Abudu were cheating, early in the morning, one day, I took some of my inspectors and policemen and went there and they were doing the examination, and we caught them. We saw what happened. Those who were cheating confessed or ran away. One of the teachers there, Solomon Aguebor, was my classmate in the Teacher Training College, Abraka in 1958.
I did not say because he was my classmate or my friend, I said his name should be struck off the register of teachers because of what he did, and he was punished.
Wherever I have served government, I have remained straight, forthright and committed to what I believe. In December 1974, I was sitting down in my house when (Gen. Samuel) Ogbemudia, the governor of the Midwest State, phoned me that he wanted to see me. So, I went, and he said 'how would you like serving Gen. Yakubu Gowon?' And I said, 'how, in what way?' He said Gowon wants you to come to Lagos and take over from Chief Enahoro as Federal Commissioner for Information and that was how I went to Lagos, and there again I played my part because I tackled issues. Again I did not pretend.
For instance, I wanted journalists to know what their country was like so that when they are making comments, they would be well-informed.
So, I took a plane with journalists, went round the whole country. I wanted them to have a first-hand experience of the various cultures of our people. By the time we were overthrown by the Murtala Mohammed regime, we had made a mark.
The Pan Niger Delta Forum PANDEF recently met with President Muhammadu Buhari. Would you describe that parley as a success?
Well, everybody has his views. I believe that there has been tension in Nigeria particularly between the Federal Government and the people of Niger Delta.
There was suspicion everywhere, there was mistrust, and there seemed to be some blockade but I think the visit of the Niger Delta leaders and traditional rulers to the Villa on Tuesday, November 1 was a remarkable one and I think it was very successful and the ice has been broken; the mistrust is gone.
For the first time, I think, the team I led there was about 100 and you can imagine, you can drop a pin…you can see how dignified the occasion was and I saw Mr. President who came in with a written address but who said he was not going to read it again, to show that the atmosphere was relaxed.
After the introduction, the Minister of State for Petroleum, Dr. Ibe Kachikwu then spoke, and I requested King Diette Spiff to read our address containing 16 points for dialogue.
We did not go there for negotiation, dialogue or anything as people may misrepresent it, we went there to meet with the president to assess the situation and for him to know who the leaders are because all along they have been saying they do not know who to talk to; who to negotiate with. So, we went there. There were over 30 traditional rulers.
Our 16 points range from infrastructural development of the area to physical federalism, amnesty, attitude of the oil companies; oil companies moving their headquarters to the operating base so that the ordinary people in the community could benefit from their operations.
A situation whereby the oil companies fly to Excravos and go back in the evening as if Chevron is more in Lagos than it is in the Niger Delta…. We wanted the amnesty to be extended and to be adequately funded; we talked about restructuring of the Niger Delta Development Commission NDDC; we are happy that the NDDC is now part of the Niger Delta ministry, so there will be proper coordination and supervision. We talked about the cleanup of the area, and we thanked him for what is going on in Ogoni which should be extended to other parts of the Niger Delta, which are similarly polluted.
So when people say the president was not relaxed or that he indicted the leaders, that was not true.
The Maritime University was one of the things we mentioned, and the president showed what you might call a goodwill gesture by approving the maritime university.
The points we outlined have been reduced to 15. So, if anybody tells you that the meeting was not successful, that is his or her  point of view. As far as we are concerned, we spoke with one voice.
Members of the Ijaw Youth Congress issued a statement after that meeting saying they were dissatisfied with its outcome…
Who are the Ijaw Youth Congress? The Congress is divided into two factions. So, I do not know which side you are referring to. One side was inside; the other was outside.
So, they cannot comment on what they did not take part in. In the list of things we presented, is there anything that we did not mention? All the points touch our lives, and if half of them can be done, then it will be good.
Some northern elements say that PANDEF wants to ambush their "son," the president. That, your "son" was president for over five years and you did not put these demands before him…
You see, I do not know the group in the north you are talking about.
A situation whereby what is being produced in my area, someone wants me to beg for it, beg for any benefit from him, I think the situation should be the other way round. Some people feel so arrogant, they believe that the oil which is being produced in the Niger Delta, they own it, and we should have nothing from it, which is not true, and we will not accept it.
They believe that the management of the oil should be in their hands which they are now doing. For instance, I have said it before, the new board established by Mr. President for NNPC is made up of nine members. Six of them come from the north, non oil-producing communities. One from the southwest, then the chairman which is a part-time position, the minister, then the other one is from Cross River.
So, would they (northerners) allow it, if there is a groundnut board developed and established in a place in the north, particularly in Kano, and if members of that board come from the south, would they allow it? We own this country together.
Live and let live. We must have respect for one another and have trust for one another. No one is a second-class citizen in his country. So, if there is a group which holds such sentiments, they are just making a mistake. We are not hijacking anybody. We came with our points to Mr. President; we did not come in an aggressive way, and we had a good discussion with him. Mr. President is the president of Nigeria and not the president of a particular group of northerners. So, if we have points to discuss with Mr. President, we do not have to take permission from anybody. I think that is what I should tell the North.
Do you think the issues of concern to you can be addressed through the PIB?
On the issue of host communities, the PIB recommends that 10 percent should go to them. Others believe that it should be seven, others, five. Others give "host communities" a different interpretation. That is why the bill has suffered a lot of setbacks. We are so narrow-minded in this country.
We have been listening to the debates in the National Assembly. Two issues they raised; one, the host communities, that the amount was too much. Two, that the power given to the minister (of petroleum) in the PIB was too much.
They were thinking as if Diezani was going to be the minister of petroleum forever. Now, she has left, nobody is talking about that now. We did not refer to the PIB in our demands.
Even before the death of President Yar'Adua, they were various types of PIB. One from the House of Representatives, another from the minister and so on. Today, we do not know which one they are even debating. The House of Representatives, before the end of the Seventh Assembly, passed one. We do not know if it is that same version that is before the Senate. If that is not the case, then there is already a conflict.
The Niger Delta people will not sleep over their rights. If we find out that what the Senate is doing is not right, we will attack it. We will come out to protest against it. If we find out that the House of Representatives is doing something else, we will come out.
So, no one should think that only Mr. President is the one we can talk to or discuss with. No. Over the years, we slept on our rights. Over 99 percent of those with oil block allocations are non-Niger Delta people. I have also told you that those lifting oil from Nigeria today, none of them is from the Niger Delta. The question is, even if we do not produce oil, are we not entitled to lift oil? Are we not entitled to oil blocks? So, now that we produce this thing, is it not unfair, is it not unjust to exclude us from it? That is our case. So, whoever is responsible, we will take it up with that person. We have the right. Do not exclude us from it. That will be unfair and ungodly. That's all.
So, what is your advice to the Federal Government, oil companies and of course the militants in the region on this issue?
The Federal Government should realise that we are not in a military regime. We are in a democracy. Therefore, armed conflict would be disastrous. It will not help anybody. It will not help the government; it will not help the Niger Delta people. That is why we are advising dialogue. When we dialogue, we will know where the differences are, and we will know how to come to an agreement.
If the Federal Government decides to take the other way round of trying to attack people, occupying our community and killing people, it would be very disastrous. It will not be in anybody's interest. The oil production will go down while innocent people are being killed. So, we advise Mr. President to treat this matter as a matter of priority.
As for the boys, we advise that blowing up pipelines is not the answer. Our problems have been on since 1958 during the Willinks Commission. If you start destroying national assets, it will not only affect the Federal Government and other parts of the country; it will also affect your eco-system. So, it is not in anybody's interest. Dialogue is the answer; I urge the boys to come together and listen to their leaders, and I want to assure them that we will never fail them.
To the oil companies, it is in their interest not to hide under the Federal Government believing that with the federal government behind them, they could do anything. No. We are saying to them that in all parts of the world, oil companies operate from the areas where the oil is being produced. They should move their headquarters to the oil producing areas. Shell tried to move their headquarters to Port Harcourt, but they have not completed doing that. Mobil should move their headquarters to Eket. They do not have to be at the federal capital. Agip should move their headquarters to Yenagoa. Chevron should move their headquarters to Warri. A situation whereby taxes which should be paid to the Niger Delta are being paid to Lagos State is not good.
You know when you have about 50 expatriates living in a place like Chevron, they will employ over a thousand Nigerians and businesses would thrive.
It is unfortunate that Chevron had to build a whole estate in Gbagada in Lagos. They have over 30 buses carrying their workers in Lagos when they do not even have one boat in their operation area in Excravos or Rivers State where they operate.