By Yinka Odumakin
THE Nigerian Senate last Thursday put paid to the "anti-corruption " career of the Acting Chairman of the Economic and Financial Crimes Commission.  EFCC, Ibrahim Magu on the strength of a damning security report authored by the Department of State Security, DSS. The DSS is directly under the presidency that nominated him.
It has also been said that the letter nominating Magu to the Senate was rushed to the Senate by Vice-President Osinbajo during the time President Muhammadu Buhari went to London on medical vacation. The President was not handed a fait accompli because Senate President Bukola Saraki dithered.
Another development that should not escape our attention is the reported division in the presidency which is said to have the Chief of Staff to the President,the Director General of DSS and the Attorney General of the Federation in one corner while Magu and the National Security Adviser are at the other end .The contents of their dispute have not much to do with public interest.
It was against this backdrop that the DSS report that nailed Magu surfaced at the Senate .The indictment has now found its way into the public space the very way Magu has been spreading scandals in the media against his victims even before he commences investigations in the past few months .
Unlike Magu's vuvuzelas, especially from the so-called community of conscience , this column is more interested in the message against Magu rather than the messenger because he who comes to equity must come with clean hands in the order of Caesar's  wife being above board.  Four clear allegations were made against Magu in the report: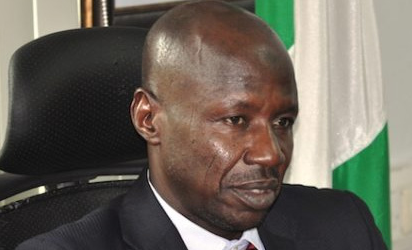 Magu is accused of living in a N40million mansion paid for by one Umar Mohammed, a retired air commodore who is allegedly involved in shady deals."Magu is currently occupying a residence rented for N40m at N20m per annum. This accommodation was not paid [for] from the commission's finances, but by one Umar Mohammed, air commodore retired, a questionable businessman who has subsequently been arrested by the secret service.
"For the furnishing of the residence, Magu enlisted the Federal Capital Development Authority to award a contract to Africa Energy, a company owned by the same Mohammed, to furnish the residence at the cost of N43m."
He was also alleged to have been in possession of sensitive document of the commission in an unethical circumstance in the past:
"Investigation on the chairmanship of Magu revealed that in August 2008 during the tenure of Farida Waziri as the commission's chairman, some sensitive documents which were not supposed to be at the disposal of Magu were discovered in his house. He was subsequently redeployed to the police after days of detention and later suspended from the Police Force."
"In December 2010, the Police Service Commission, PSC, found Magu guilty of action prejudicial to state security – withholding of EFCC files, sabotage, unauthorised removal of EFCC files and acts unbecoming of a police officer, and awarded him severe reprimand as punishment"
The report equally accused Magu of living beyond his means and associating with questionable characters:
"Investigations show that the acting EFCC chairman regularly embarked on official and private trips through a private jet owned by Mohammed.
"In one of such trips, Magu flew to Maiduguri alongside Mohammed with a bank MD who was being investigated by the EFCC over complicity in funds allegedly stolen by the immediate past petroleum minister, Diezani Alison-Madueke.
"Furthermore, the EFCC boss has so far maintained a high-profile lifestyle. This is exemplified by his preference for first-class air travels. On 24 June, 2016, he flew Emirate airlines first-class to Saudi Arabia to perform lesser hajj at the cost of N2.9m. This is in spite of Mr. President's directive to all public servants to fly economy class.
"Magu has fostered a beneficial relationship with Mohammed who by his confession approaches clients for possible exploitation, favours and associated returns."
It is only in a Republic of "magas" that any man who is guilty of any one of the above allegations can be considered a fit and proper person to head the anti-graft war. As at the time of writing this column, Magu has yet to respond to any of these allegations. It is only his "consultants" who have been  offering all manners of puny and downright silly defenses for him. None of his supporters has asked him to clear his name. Instead they have been talking about "corruption fighting back " as if the allegations against Magu do not present the image of corruption fighting corruption in the first instance. What do these fellows take us for ?
One of them even had the temerity to declare that Magu would remain the EFCC chairman whether the Senate likes it or not. This makes one  wonder the depth public office has sunk to in our country that a man who holds a high position that requires public trust can make such comment without a thought.
Mr. Magu has spent the few months he has been in the saddle to "corrupt" the anti-corruption campaign by running a blackmail outfit that sets the media after suspects even before invitations are delivered to them. He convicts them first on the pages of newspapers and then begins to look for evidence to justify his "judgement ".  He has not , and cannot, press charges against a great number of people and his mob has set ablaze in their media jungle in the period he has been in charge.
He has manifested clear double-standards unbecoming of  a genuine anti-corruption czar. On one occasion, he made the person accused to have given money to another party to go home after spending a night in his custody while holding the receiver for over 40 days before being charged to court.
Court orders means little to Magu as he is presently facing a contempt charge from a Magistrate siting at Maupe in Abuja over one Na'im Lawal whom the court discharged of the allegations against him by the EFCC. Weeks have passed and Lawal has not been released.
We can't forget in a hurry how he arrested a Lagos Attorney, Ebun Olu-Adegboruwa on spurious charges ostensibly for defending some of the people he held in his gulag. A High Court has since shredded the frivolous charges against Adegboruwa.
As it is, Magu has to stand down  and face trial as the "mago-mago" allegations against him cannot be swept under the carpet. We need a person of impeccable integrity to head the EFCC for the credibility of the agency. Such a man exists somewhere if we are serous about fighting corruption in this country.
By the way, the EFCC since its inception has been led by the following :
1 Mallam Nuhu Ribadu
2 Mrs. Farida Waziri
3 Mr. Ibrahim Lamorde
4 Mr. Ibrahim Magu.
I have read the EFCC Act over and over and did not see any provision that the Chairmanship is permanently zoned to a section of the country !
Feedback
MY Brother Comrade Yinka, I doff my hat for you on your write-up concerning the subject matter.  I have always claimed that the civility of the West is worthy of emulation. Although the 'wild wild west' and 'operation wetie' started in the West during the first republic of yester-years, the West had since moved on with their public conduct ever-since.
Perhaps, this has much to do with their early exposure to free education as championed by Baba Awolowo. Because of the proximity of Edo State to the West, Edo is now seemingly on the right track to development. Just imagine the peaceful conduct of the last election in Edo and Ondo State! We were almost shouting 'Uhuru' for the coming of age of Nigerian politician. For the South East and the South South (excluding Edo State), elections in these zones is like an ISIS battle ground. Do you now still wonder why there is permanent under-development in the Niger Delta Region, despite the profligacy of agencies, NDDC, Desopadec, IOC's CSR GMOU, International Agencies, etc.
There is no true representation of the people on the ground. It is a jungle environment. And the rule here is 'the survival of the fittest'.  No rule of law thrives here. The half-baked and un-educated lord it over the educated. And if you can't take it any longer, then take a walk. These evils thrive because the few good men around decided to remain silent. Our traditional rulers are not even helping matters. Yes! Not one traditional ruler has been able to whisper the truth to his people. They are all brief-case traditional rulers  sourcing for crumbs from the master's table.
The traditional institutions in the West and Edo State (Oba of Benin) are well regaled with respect and dignity. The pedigree of these traditional institutions are different from those of the South-South and the South-East. And they are even insulated from politics. Unlike in the South-South where they are more of political jobbers. Little wonder, therefore, that with this job description, traditional rulers do not have effective control of their subjects.
And this is why the situation of the Niger – Delta is like that of a soul that has no conscience. So don't be perplexed at what happened in Rivers State during the last re-run election. For Delta State, the Rivers' State election is a child's play.
It has always been so since 1999. In Delta State, election results remain un-concluded  till about two weeks post -election. And you now begin to wonder whether Delta State has more rivers than Rivers State or Bayelsa or Cross River or even Akwa Ibom State that announce election results within twenty – four hours.
Chief Victor Eruakpofo Puegeren, Warri, Nigeria.
Re:Budget without planning
I AM an ardent follower of your column. In fact, but for the  fact that you are expected to have so many mails always, you would have remembered a couple of rejoinders I sent you. I identify you as a rabid anti-northern Yoruba man who detests anything 'north'. As a corollary to that, it is not surprising that you don't ever seem to see anything good in this government nor it's drivers.
I was therefore pleasantly surprised to see that at least there is something on which two of us can agree.
Your article in your usual column in the Vanguard of today captures my thoughts completely! I totally agree that our politicians and even the so called technocrats are entirely from another planet. You even waisted your time comparing the routinely excessively voluminous documents we call 'budgets' to what obtained under the very cerebral Lee Kwuan Yew of Singapore!
Here, the goal is just to justify the doling out of funds and not necessarily to achieve any developmental objective for the general good with such funds – that is why year after year, MDAs are usually beside themselves in their competitive bid to spend whatever is left in their treasury on whatever catches their fancy at the end of the year end! Pity, but will they ever learn!
Tafida Warigon.