By Victor Ahiuma-Young
By tomorrow, 2016 will become history and for Nigerian workers and indeed Labour Movement, 2016 will remain indelible in their minds for a long time to come.
Besides the issues of unpaid salaries, pensions, mass retrenchment of workers, protest against hike in electricity tariff among others that dominated public discourse in states and at the federal levels, two issues which stood tall to make 2016 a year to always remember, were the failed strike against the increase in the pump price of petrol from N86.50 to N145 per liter as well as the unveiling of United Labour Congress of Nigeria, ULC, as the third labour centre in Nigeria alongside Nigeria Labour Congress, NLC, and Trade Union Congress of Nigeria, TUC.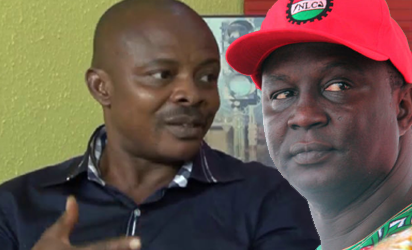 It was no news that since the disputed outcome of March 2015 National Delegates Conference, NDC, in Abuja, which factionalised NLC, with Comrade Ayuba Wabba leading one faction and Comrade Joe Ajaero, leading the other faction, Congress lost its united voice and cohesion.
The relationship between both factions has been that of mutual distrust and suspicion undermining all efforts to reconcile them by Congress veterans including immediate past governor of Edo State, Comrade Adams Oshiomhole.
A report of the reconciliatory committee headed by founding president of NLC; Alhaji Hassan Sunmonu was never implemented despite appeals from several quarters including industrial unions.
It was in the thick of the widening gap between the factions that the Federal Government on May 11, announced that it could no longer afford the subsidy on Premium Motor Spirit, PSM, (petrol) skyrocketing the pump price from N86.50 per litre to N145.00 a litre
The deep rooted distrust and suspicion manifested during the failed strike to protest the withdrawal of subsidy on Petrol by government.
While the Ajaero faction which included the Nigeria Union of Petrleum and Natural Gas Workers, NUPENG, as well as TUC which has Petroleum and Natural Gas Senior Staff Association of Nigeria, PENGASSAN, as affiliate opted for a meeting with government to find solution to the issue, the Wabba faction of NLC, decided on a nationwide strike.
When the Federal Government invited labour for a meeting over the subsidy removal, Wabba was quoted as saying that he would not hold meeting with government alongside   Ajaero and his faction of NLC, forcing government to hold separate meetings with each faction.
At the end, Ajaero faction, and TUC opted out of strike, but Wabba faction went ahead with some civil society groups to declare an indefinite nationwide strike.
The strike did not enjoy popular support among not only the Nigerian populace, but also among industrial unions affiliated to Wabba faction and as a result, the strike failed woefully.
On Sunday, May 22, the Ayuba Wabba faction of NLC, suspended its nationwide strike/protest against the increase.
The outcome of the failed strike showed that labour leaders did not understand the socio-economic realities in the country where workers find it difficult to meet their daily needs. Issues of unpaid salary and pension had been on the front burner for months while the affected workers in both private and public sectors were left to their fate.
In some cases, they were left for handicapped local council to handle. Besides media threats of strike, labour leaders did not even declare one-day nationwide protest to press for the payment of salaries and pensions of workers and pensioners who are owed months of arrears of salaries and pensions.
But when it came to the issue of fuel hike, which is not even a labour issue, labour leaders were quick to issue ultimatum and declare a nationwide strike, expecting workers who have not been paid salaries to join. In fact, workers were before the increase, buying petrol at higher prices than the N145 per liter. From experience, even if the price of petrol was reduced, prices of essential commodities that had gone up as a result of the hike was never expected to come down.
Blame game
One of the revelations of the failed strike was the confirmation of long hidden open secret that most labour leaders are disconnected from the shop floor workers. Besides affiliates of TUC and Joe Ajaero faction of NLC, that did not participate, no affiliate of Wabba faction could claim 40 percent compliance to the strike directive. From road transport to air transport, from construction to manufacturing, from education to health, workers went on with their duties unhindered while their leaders were grandstanding in the public.
In the few states that successes were recorded, they were achieved by force with workers either locked out of their offices or chased out. In some other states that the so-called strike recorded little compliance, workers had local issues they were fighting. Labour leaders assumed that relating with workers and ordinary Nigerians is a military command style. There is no doubt the fallout of this anti-fuel hike protest, had serious negative image on labour which will impinge on its ability to call a nationwide industrial action in the future.
Launch of ULC
The name United Labour Congress, NLC, is not new to Nigeria Labour Movement, as it was the umbrella body for progressives unionists before the 1978 merger of unions following the restructuring of Trade Unions by then Military Government of Muritala Mohammed and Olusegun Obasanjo Government.
Incidentally, the new ULC also rely on the Trade Union Amendment Act of 2005, by the Federal Government headed by former President Olusegun Obasanjo, to come into existence.
How far the ULC will go only time will tell. But if the passion exhibited at its unveiling by its leaders and members present was anything to go by, there is no doubt that a new   mass movement has come to alter the nation's labour movement and industrial relations landscape.
NLC reacts
While the TUC has adopted a "wait and see" approach towards some of its affiliates that make up ULC, the NLC seems to have been devastated by the emergence of ULC.
The response of NLC through its President, Mr. Ayuba Wabba, vividly portrayed the feeling in NLC over the new labour Centre.
In a statement he personally signed and interview granted, Mr Wabba singled out the Joe Ajaero and Igwe Achese, President and Deputy President respectively, of the new federation for attacks, claiming their inordinate ambition for positions was the motivating factor that led to formation of the ULC.
According to him: While recalling the crisis that rocked NLC since March 2015 Delegates Conference and alleged efforts to reconcile aggrieved members, declared "We shall do everything within our power to preserve the unity and coherence of the labour movement which was handed down to us by our forebears in the movement."
He said: "The congress wishes to assure all our members including those of NUEE, NUPENG and others listed as having attended the alleged launch of the new centre, that the NLC will continue to provide protection for them, and will ensure that their leaders do not out of their consuming ambition to be leaders of a 'national center' lead them into the wilderness. In this regards, we will ensure that no one take you away from the NLC without your express democratic consent to do so."
ULC response
But in his reaction, President of ULC, Mr. Ajaero described Wabba as a drowning man who has lost touch with reality.
He said: "Ayuba Wabba can defend the unity of NLC, not ULC. He does not understand the difference between labour center and Labour movement. His statement is a lamentation of a drowning man.
The honey has been taken away from the crumbs. You cannot stop me from changing from my faith Catholic Church to Pentecostal. It is a right guaranteed by the constitution. We would not join issues with him. We have moved on. We make haste to point out that as a responsible centre, we serve the interest of all Nigerian workers and peoples no matter where they come from and if Ayuba so wishes to do the same, no problem.
We advise Ayuba to instead of embarking on a futile mission outside of his capacities and capabilities to rather concentrate on dousing the fires within his NLC which is what we think should bother him more. When our attention was drawn to this, we had truly thought that he was focusing on solving the internal schisms which his style of leadership has created for those who still share the same umbrella with him. This is our comradely advice.
Reconciliation committee report
While some have argued that the NLC should have adopted the TUC's approach, other insist the NLC reaction was not unexpected since the crisis that rocked it following the disputed outcome of the March 2015 National Delegates Conference, NDC, which created faction in NLC.
There is no record to show that that any of the recommendations of reconciliation committee was implemented over one year after submission
Several calls by concerned individuals and groups including the National Union of Textile Garment and Tailoring Workers of Nigeria, NUTGTWN, for the implementation of the report were not heeded. It was argued that if the report of the reconciliatory committee was implemented, the crisis that rocked NLC which contributed 90 percent to emergence of ULC, would have been saved. Like they say, those who make peaceful change impossible, make violent change inevitable.