By Anayo Okoli
UMUAHIA—GOVERNOR Okezie Ikpeazu of Abia State yesterday swore-in the newly elected Chairmen of the 17 Local Government Councils of the State and their deputies with a charge to them to look inwards for funds by focusing attention on internally generated revenue.
The governor also swore-in the 292 elected councillors in the 17 councils and urged them to work in harmony with the executive council to enact edicts that would help develop their councils and improve the lots of the rural people.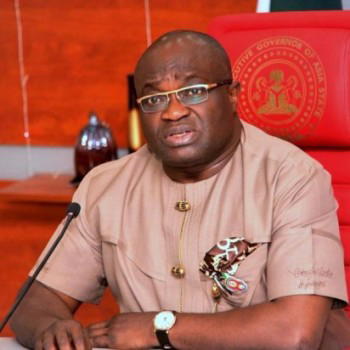 Ikpeazu however warned the newly sworn-in chairmen, deputies and councillors to be wary of those he called enemies of the state, who do not see anything good in Abia.
Interestingly, all the 17 chairmen and their deputies as well as the 292 councillors were all elected on the platform of the ruling PDP. No opposition party won any councillor seat.
Addressing the chairmen after the swearing-in witnessed by Senators Theodore Orji, representing Abia Central and Mao Ohuabunwa, representing Abia North, the deputy governor and members of the State cabinet, Governor Ikpeazu said he decided to conduct the council elections despite the lean resources of the State "to deepen democracy and take governance to the grassroots and ensure that democratic dividends get to the rural areas."
He however commended the State electoral commission, ABSIEC, for being prudent in the conduct of the election by using made in Aba and Abia materials, including bags, for the conduct of the elections.