New York – The Nigerian Senate and the Presidency will have better working relations in 2017 as against the somewhat strained relationship witnessed in 2016, Sen. Monsurat Sunmonu has said.
Monsurat said in New York on Thursday that the upper legislative house and the presidency had started mending cracked walls in their relationship.
"Nigerians should look at things to go better in 2017 between the Senate and the Presidency than what it was in 2016.
"And I hope that God willing, we will be able to achieve the goal," she said.
According to her, a harmonious relationship has already started between the two organs, O yes, I mean, we've started and it will continue.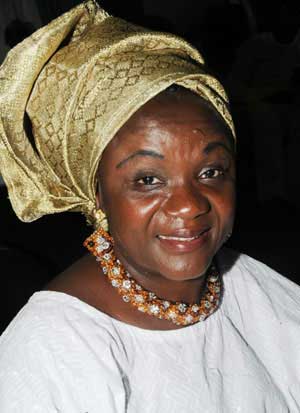 Sunmonu, who is the Chairman, Senate Committee on Foreign Affairs, said the non-confirmation of acting Chairman of Economic and Financial Crimes Commission and the list of non-career ambassadors were not borne out of rift.
"All those things, I mean the rejections were done without prejudice.
"These were parts of what Mr President actually wants for us to be able to have competent people to do certain jobs.
"And it is not for anything; we are not saying we've rejected Magu but we've managed to point out some things that we've seen to the president, not rejected."
Sunmonu, a former Speaker of the Oyo State House of Assembly, also said the rejection of the list of non-career ambassadors was to ensure amendments by the presidency.
"When they sent the list for 46 non-career ambassadors, because of the so many petitions that we received across the states, we had to send the list back to the presidency.
"It was for them to look into it and to see what amendments can be made. So, that is why we are waiting for that list now.
"We are expecting and we believe that every aggrieved people would have been accommodated, just to douse the tension.
"We are ready to do our job and we are expecting the list to come as soon as possible," she said.
She explained that the screened 47 career ambassadors had been deemed fit to represent Nigeria outside the country.
"Initially, we were expecting the whole 116 because we have 116 missions but the Executive sent 47 as a first batch," she said.
Sunmonu said with the initial public outcry over the list of the 47 career ambassadors, the committee invited officials of the Ministry of Foreign Affairs and the presidency to explain the process used in selecting them.
"At the meeting, they explained that since they are career officers, everything was done by the ministry and they made a promise that all the aggrieved states would be accommodated in the next list.
"So then, we were able to proceed on the screening. During the screening, we were able to ask tactical questions.
"I could say that the 47 of them, we believe, are deemed fit to represent Nigeria outside. It was a tedious process," she said.