By Victor Ahiuma-Young
EMPLOYERS in the textile industry and Organized Labour in the sector have reached an agreement to raise the salary of the least paid workers to N32,000 per month to help workers cope with the economic recession.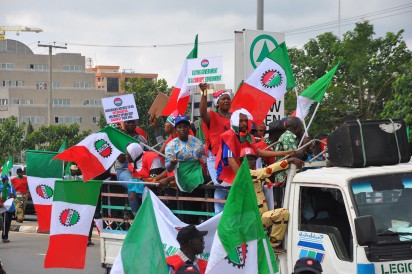 National Union of Textile, Garment and Tailoring Workers of Nigeria, NUTGTWN, which gave this hint in a document obtained by Vanguard, said the increment is about 75 per cent higher than national minimum wage. In the document endorsed by the President and General Secretary of the union, Mr. John Adaji and Issa Aremu respectively, the union said the new wage was agreed upon at the 46th National Collective Agreement, NCA.
According to the union: "Notwithstanding the current economic challenges and the peculiar operating challenges of the textile sub-sector, it is remarkable that the union sustained the struggle for a living wage for members. We just signed the 46th national collective agreement with the Nigeria Textile Garment and Tailoring Employers Association, NTGTEA. The agreement significantly raised wage rate in the industry by 13 percent. 18 percent and 15 percent wage increases were achieved in 2012 and 2014 respectively bringing total cumulative wage increase to 46 per cent through the process of collective bargaining.
"Agreements through bargaining process have therefore brought the minimum wage in the industry to N32, 000, about 75 per cent higher than national minimum wage. This outcome is the result of focused leadership, support from our members and the cooperation of the employers. However, given the massive devaluation of the Naira and attendant inflation, the industry minimum pay is yet to take our hard working members out of poverty. This is why we support the demand of Nigeria Labour Congress, NLC, for a new national minimum wage."
The workers' body also sympathised with employers for harsh operating environment, lamenting that "due to the depressed state of the economy, the challenge has been to defend the existing jobs. Some of the key manufacturing textile industries like Nichemtex Ikorodu temporary closed down due to lack of raw materials and high electricity tariff that is not industry friendly."
The union, however, decried the worsening unfair labour practices such as casualization and outsourcing, saying "Precarious or casual work is the work done by workers under terrible conditions of low pay, delayed payment and general insecurity. Precarious work is becoming the norm in most workplaces in Nigeria with most employers taking advantage of mass unemployment to violate workers' rights. More and more precarious workers are unable to realise their fundamental rights at work and enjoy essential social rights."
The union joined the global campaign against precarious work on Friday October 7, 2016 with rallies in the cities of Kaduna, Lagos and Abuja respectively.